Tim Grierson on "The Five-Year Engagement" and other movies where love doesn't always end happily ever after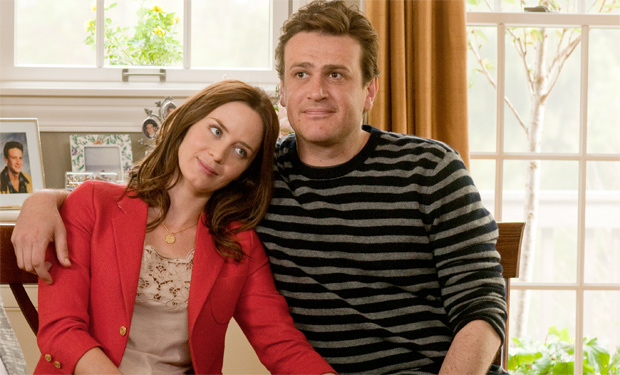 Posted by Tim Grierson on
"The Five-Year Engagement" doesn't exactly work, but it is a rare Hollywood comedy about the problems of making love last. Romantic comedies (and dramas) tend to focus on the difficult groundwork that needs to be laid — pardon the pun — before a couple can find their happily ever after. At the end of most movies, the guy and gal realize that they're perfect for one another, and the credits roll before we see what happens next: They're in love, and that's all that matters. Though it's overlong and spotty, "The Five-Year Engagement" at least focuses on that part of a relationship you almost never see in other movies. And, interestingly, it's not the only film recently that's done that.
Now, I should say that this is hardly a revolutionary idea. Movies about the problems with long-term relationships have been explored in comedies before. Woody Allen's 1977 Oscar-winning "Annie Hall" sifts through the wreckage of a failed love affair, but because of its jumbled timeline you hold out hope that maybe things will eventually work out. (A later Allen masterpiece, "Husbands and Wives," would delve into the topic with even more insight 15 years later.) Writer-director-star Albert Brooks' great 1981 film "Modern Romance" is all about a couple who can't decide if they're more miserable together or apart. In these movies, the typical boy-meets-girl setup is already way in the past — this type of film gets its laughs from how hard the boy tries to keep the girl.
But in the last few years, there have been a rash of good films that tackle this dilemma, either as comedy or drama — or perhaps a little of both. Three years ago, "(500) Days of Summer" took a page from "Annie Hall," screwing with its chronology to offer a snapshot of specific days in the year-and-a-half relationship between Tom (Joseph Gordon-Levitt) and Summer (a never-better Zooey Deschanel) to show what went wrong with their courtship. As with a lot of these recent movies, there's a push/pull dynamic going on in "(500) Days of Summer" that's different than the typical, predictable "How will they finally fall in love?" suspense of your regular romantic comedy. Instead, "(500) Days of Summer" acknowledges that sometimes lovers aren't completely compatible, and so we in the audience watch Tom and Summer and wonder if maybe they're not meant to be together. That's not a fault in the film — hey, that's just life.
The superb 2010 indie drama "Blue Valentine" is in some ways a more traditional look at the relationships-sure-are-hard predicament. Again, there's a juggling of time frames. (Scenes of happy puppy love between Ryan Gosling and Michelle Williams are juxtaposed with present-day scenes of the now-married couple utterly miserable.) But like "(500) Days of Summer," "Blue Valentine" operates somewhat like a mystery. The viewer looks at the flashback scenes and wonders if there were clues to the couple's future unhappiness there all along. And while there are no pat answers, what emerges is a sense that the things that draw us to a mate can also ultimately repel us — an adorable quirk or tendency eventually revealing a character flaw or deep insecurity. We expect on some level for stark indie dramas to examine difficult subjects like this, but "Blue Valentine" cuts so deep because even though this couple probably can't make things work, we recognize how much love there still is between the two of them. That's what makes the film so heartbreaking: Despite all the anger and regret, love doesn't entirely go away.
That poisonous combination of love and hate — which, really, are two different expressions of the same sentiment — is also the subject of last year's divisive "Like Crazy." The drama starts with the passionate love affair of students Felicity Jones and Anton Yelchin, but when complications force them to be separated by an ocean, their powerful need for one another soon morphs into ugly emotions, as they both lash out in unfortunate and often immature ways. One of the most difficult things for the film's critics to understand is that, honestly, we're not meant to look at Jones and Yelchin as star-crossed lovers whose infatuation is destined to defeat all obstacles. Quite the opposite: "Like Crazy" is a rather sobering and honest account of what it's like to be in one of those high-voltage, high-drama relationships where the people bring nothing but pain to each other. Everybody around them knows they shouldn't be together, but, tragically, no one bothered telling the two of them. (Interestingly, "Like Crazy" essentially ends the same way that "Modern Romance" does, except this time there's nothing remotely funny about the outcome.)
If you did like "Like Crazy," though, let me suggest the recent French drama "Goodbye First Love," another tale of crazy love with no happy ending in sight. In the film, Lola Creton plays a young woman hung up on a slighter older boy (Sebastian Urzendowsky). The problem is that he's left France to see the world, and as the years go by, his letters stop coming. Clearly, he's moved on, but Creton can't. (Like the couple in "Like Crazy," she's too inexperienced in life and love to understand that your heart will heal.) And so she goes on for several years pining for this boy, even as her own life gets bigger and more interesting, including being courted by one of her professors. "Goodbye First Love" is probably the least romantic of any of these movies I've cited — the central couple is barely on screen together — but it's a poignant, accurate depiction of what it feels like to nurse a crush that won't go away. And just like with "Like Crazy," being annoyed at the character isn't the point. Her entire problem is that she can't get over this guy. This type of thing never happens in most Hollywood romantic comedies, but I'm sure it's happened to someone you know — or, god forbid, even you.
Which brings us back to "The Five-Year Engagement," a movie that starts with its would-be happy ending, Tom (Jason Segel) proposing to his girlfriend Violet (Emily Blunt). But their wedding gets put on hold when they move from San Francisco to Ann Arbor so she can pursue her career as a psychologist. Though mostly a broad comedy, "The Five-Year Engagement" has grander ambitions, dramatizing how difficult it is to maintain the innocent infatuation of a relationship's early days during the trying times. Sadly, the film lacks the courage of its convictions, wasting time with silly digressions and formulaic twists, but at least it tries to suggest that love takes more than a sweet kiss in the final reel. It's easily the least accomplished of any of these movies — and its meager showing at the box office this weekend suggests audiences weren't that interested in giving it a shot — but it's nice to see a film with big stars for once acknowledge that, sometimes, love just ain't enough.