Five reasons to watch "Buffy the Vampire Slayer"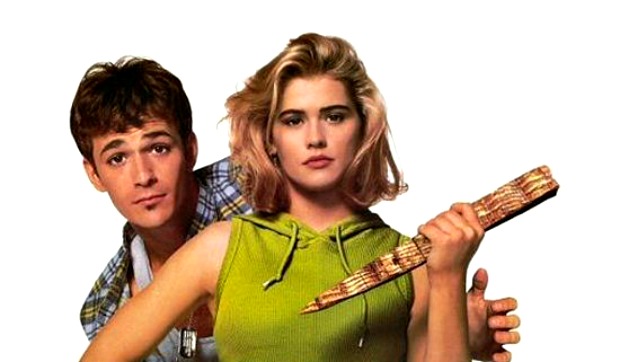 Posted by Melissa Locker on
Tonight at 10:15 p.m. ET we are bringing "Buffy the Vampire Slayer" to IFC. The brilliant mash up of horror and teen-sex comedy stars Kristy Swanson as the bubble-headed cheerleader who learns from a Van Helsing-ish stranger (Donald Sutherland) that she's, like, the reincarnation of this pure female warrior and stuff, destined to rid the world — or at least the Valley — of vampires. No sooner is Buffy getting schooled in the ways of vampire butt-kicking (much to the consternation of meek pretty-boy beau Luke Perry) than the lead vampire (Rutger Hauer) and his leering cronies show up — and leading up the pack is none other than Pee-Wee Herman himself, Paul Reubens. Fans of this film's popular TV offspring will appreciate the fang-sharp humor but may be surprised to find little evidence of the spooky atmosphere that permeates the series — though there are some inspired moments, particularly the ridiculous death-by-ruler scene. That's right, death by ruler. Suck it, Eli Roth! Just kidding, he's too scary to tease.
Still don't think this movie is for you? Here are five reasons to watch "Buffy the Vampire Slayer" tonight:
1. It spawned one of the best television shows ever.
That's as much of an excuse as we need to post this awesome Buffy vs. Edward Cullen mash up. Love you, internet!
2. Kristi Swanson
She was Supergirl, for crying out loud, and now she's a prom queen-turned-vampire slayer. What's not to love?
3. Peewee Herman
Aside from general awesomeness, he has one of the most epic death scenes ever.
4. Rutger Hauer
5. Ben Affleck
Yes, the A-List star plays a high school basketball player in the film. Here's the clip, it's in Spanish, but you get the drift.
"Buffy the Vampire Slayer" airs tonight at 10:15 p.m. ET/9:15 p.m. CT; Saturday, Apr. 7 at 8:00 PM ET; Sunday, Apr. 8 at 12:15 AM ET; Friday, Apr. 13 at 8:00 PM ET; Friday, Apr. 13 at 10:00 PM ET; Saturday, Apr. 28 at 10:00 PM ET