Felicia Day discusses her new geek-friendly YouTube channel and her expanding online empire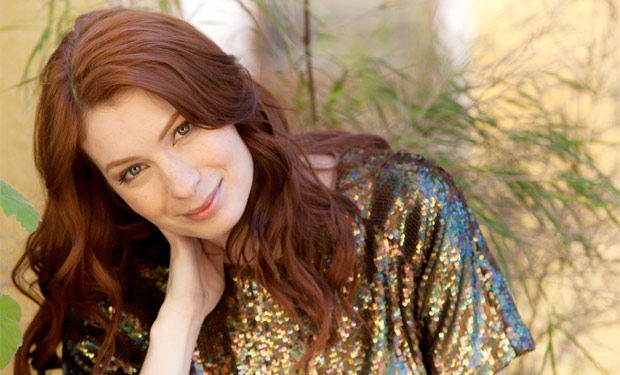 Posted by IFC on
By Jennifer Vineyard
Felicia Day is a geek goddess — after all, she's the creator and star of the online gamer series "The Guild" (which in turn inspired Joss Whedon's smash miniseries "Dr. Horrible's Sing-Along Blog.") But what's a goddess without a realm to rule over? Day's solved that problem with her new YouTube channel Geek & Sundry — which launched this week, and will feature not just the new season of "The Guild" but a whole bunch of new shows she's curated about music, comics, science fiction/fantasy, adventures, and of course, more games.
"I wanted to touch on everything I'm passionate about," Day told IFC. "And I wanted to do them in a way that's not standard.. Why do things that have been done before?"
The first shows to premiere on the channel are "The Flog" (new episodes every Monday), "Dark Horse Motion Comic"s (new episodes every Wednesday), and "TableTop" (new episodes every other Friday).
The Flog (Felicia's video blog — get it?) features the actress/producer exploring just about anything that interests her, guerilla-style. "There's a fly-by-the-seat-of-my-pants quality to it that I like," Day said. "One week I learn how to do glass-blowing, another week to drive a bulldozer. I just go off and explore and experiment, follow my whims. Kids are encouraged to do this all the time, but we shouldn't stop just because we become adults."
Day said that while the show is very adult in terms of adhering to the responsibilities inherent in documentary-style filmmaking ("We do conform to copyrights and release forms), The Flog has a child-like curiosity. "It's like how I look in people's medicine cabinets when I visit them," she laughed. "I want to know things, and I want to experience a lot of variety. And sometimes I don't even know if I want to do some of these things — like the trapeze episode, because I'm much more scared of heights than I thought. But we don't know until we try it."
Although Day is associated with online gaming, the show "TableTop," hosted by Wil Wheaton, is about (like the title suggests) tabletop games such as "Small World," "Dragon Age," and "Fluxx." Wheaton plays with guests such as "Mythbusters" host Grant Imahara, Leverage's Beth Riesgraf, and Colin Ferguson. Wheaton explains the rules ("It's a fantasy-filled land with crazy races … as we battle to see who can take it over!"), sings made-up songs, and champions the newbies. "Nothing makes me happier than seeing a new player come in and just exploit a total screw-up by a veteran," he enthuses in the first episode.
"I was not a tabletop gamer at first," Day said, "and now I've got quite a few on my iPad, and that's been a cool crossover for me. It's a habit. But I've been so busy, I can't get back my ranking on MMO, so one day, I've got to get back to that."
Speaking of which — Day gets back to "The Guild" for season five, which starts anew on April 10 (with new episodes every Tuesday). "There are a ton of guest stars," including her "Horrible" co-star Nathan Fillion, "and a lot of huge surprises," she teased. "We had to create a gaming convention from scratch, and there will be lots of amusing insights about how they work." Past seasons of "The Guild" will also be on Geek & Sundry in "movie-length" format, with running annotations and behind-the-scenes content every Thursday. "We put a lot of work into making it fresh," she said.
Other shows to premiere on the channel will be a video version of the book club podcast "Sword & Laser" (starting April 13, with new episodes every other Friday), "Written By A Kid" (premiering July 18), and "Learning Town" (coming in the fall).
"The whole point of all of this is that you're not passively watching, but you're participating," Day said. "That is the number one mantra of our channel, because community is so important to me. I want a whole network where we can cover all the aspects of things we love, and hopefully as we gather an audience, we can make even more shows."
If Geek & Sundry takes off, she said, she hopes to help Dark Horse develop even more motion comics (say, "Buffy the Vampire Slayer" Season Nine?), and perhaps even find a home for more "Dr. Horrible"-like projects or possible sequels. "I want to make as many as I can," she laughed. "I at least know the people to call to ask."