Exclusive: Death Cab for Cutie & The Magik*Magik Orchestra Tour Trailer #1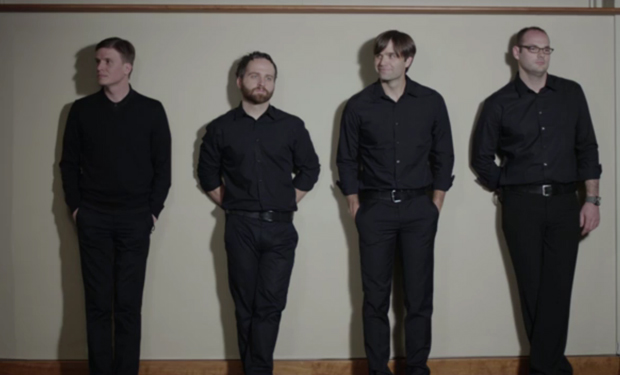 Posted by Brandon Kim on
Word out of Denver, where the the Death Cab/Magik*Magik tour kicked off from inside an opera house, was that the show is "potent." We're six days into the tour now from which a series of behind-the-scenes clips have begun to roll out, and we'll be hosting them here, starting with this one featuring a little parade.
Magik*Magik, known for their stage collaborations, aren't opening for Ben Gibbard and crew (that falls to Low and Youth Lagoon), but accompanying them on stage. The orchestra have conspired with them previously, including performing the string arrangements on the band's most latest album, "Codes and Keys."


video player loading . . .
Watch for more clips, by director by Justin Mitchell, as the tour rolls on including rehearsals, brief interviews and performances in the days to come.
Tour dates:
4/16 – Chicago, IL @ Chicago Theatre ^ – SOLD OUT
4/17 – Chicago, IL @ Chicago Theatre ^
4/19 – Toronto, ON @ Massey Hall ^
4/20 – Montreal, QC @ St. Jean Baptiste Church ^ – SOLD OUT
4/21 – Boston, MA @ Citi Performing Arts Center ^ – SOLD OUT
4/23 – Providence, RI @ Veterans Memorial Auditorium ^
4/24 – Buffalo, NY @ Kleinhans Music Hall ^ – SOLD OUT
4/25 – Upper Darby, PA @ Tower Theatre ^
4/27 – New York, NY @ Beacon Theatre * – SOLD OUT
4/28 – New York, NY @ Beacon Theatre * – SOLD OUT
4/29 – New York, NY @ Beacon Theatre * – SOLD OUT
4/30 – North Bethesda, MD @ Strathmore * – SOLD OUT
5/1 – Knoxville, TN @ Tennessee Theatre *
5/3 – Dallas, TX @ McFarlin Memorial Auditorium *
5/4 – Austin, TX @ ACL Live at the Moody Theater * – SOLD OUT
5/6 – Mesa, AZ @ Mesa Arts Center – Ikeda Theater *
5/7 – Los Angeles, CA @ Walt Disney Concert Hall * – SOLD OUT
5/8 – Oakland, CA @ Fox Theater * – SOLD OUT
5/9 – Oakland, CA @ Fox Theater * – SOLD OUT
5/10 – Oakland, CA @ Fox Theater *
5/11 – Portland, OR @ Arlene Schnitzer Concert Hall *
5/13 – Seattle, WA @ The Paramount Theatre *
^with Low
*with Youth Lagoon