Exclusive: Death Cab for Cutie & The Magik*Magik Orchestra Tour Trailer #2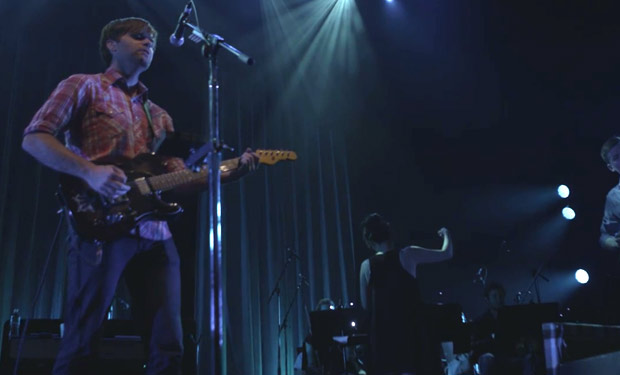 Posted by Brian Jacks on
Earlier this week we premiered the first trailer from Death Cab for Cutie's touring collaboration with Magik*Magik Orchestra, and today we're back with the second offering. Whereas the previous video featured the Death Cab guys relaxing against a wall as a parade of musicians strolls past them, this time we get some onstage action as we hear exactly how the two groups' synchronicity leads to an intimate and emotional set.
video player loading
.
.
.
Watch for more clips, by director by Justin Mitchell, as the tour rolls on including rehearsals, brief interviews and performances in the days to come.
Tour dates:
4/16 – Chicago, IL @ Chicago Theatre ^ – SOLD OUT
4/17 – Chicago, IL @ Chicago Theatre ^
4/19 – Toronto, ON @ Massey Hall ^
4/20 – Montreal, QC @ St. Jean Baptiste Church ^ – SOLD OUT
4/21 – Boston, MA @ Citi Performing Arts Center ^ – SOLD OUT
4/23 – Providence, RI @ Veterans Memorial Auditorium ^
4/24 – Buffalo, NY @ Kleinhans Music Hall ^ – SOLD OUT
4/25 – Upper Darby, PA @ Tower Theatre ^
4/27 – New York, NY @ Beacon Theatre * – SOLD OUT
4/28 – New York, NY @ Beacon Theatre * – SOLD OUT
4/29 – New York, NY @ Beacon Theatre * – SOLD OUT
4/30 – North Bethesda, MD @ Strathmore * – SOLD OUT
5/1 – Knoxville, TN @ Tennessee Theatre *
5/3 – Dallas, TX @ McFarlin Memorial Auditorium *
5/4 – Austin, TX @ ACL Live at the Moody Theater * – SOLD OUT
5/6 – Mesa, AZ @ Mesa Arts Center – Ikeda Theater *
5/7 – Los Angeles, CA @ Walt Disney Concert Hall * – SOLD OUT
5/8 – Oakland, CA @ Fox Theater * – SOLD OUT
5/9 – Oakland, CA @ Fox Theater * – SOLD OUT
5/10 – Oakland, CA @ Fox Theater *
5/11 – Portland, OR @ Arlene Schnitzer Concert Hall *
5/13 – Seattle, WA @ The Paramount Theatre *
^with Low
*with Youth Lagoon