Shelf Life: Richard Linklater's "Dazed and Confused"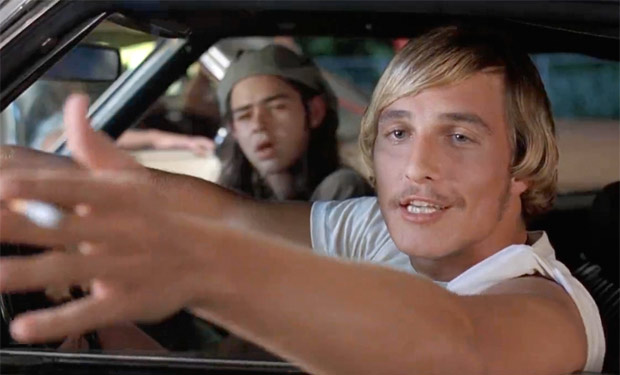 Posted by Todd Gilchrist on
Today, Richard Linklater's latest film "Bernie" arrives in theaters. It's the director's fifteenth feature film – at least since "Slackers" made a national splash in 1991 – and he, like a number of other filmmakers who emerged in the early '90s, has enjoyed more of a flirtation with mainstream moviemaking than a full-fledged relationship. But Linklater's sophomore effort "Dazed and Confused" was as good a second date as anyone's likely to have if they want to break into Hollywood proper, at least in terms of highlighting the filmmaker's ability to manage a large ensemble, much less shepherd a film onto the screen that feels at once purposeful and effortless.
But with 20 years of filmmaking between the release of that film and "Bernie," it's interesting to see how much he's grown, or perhaps regressed, and more to the point, whether that film continues to leave as strong and clear an impression as it did in 1993.
---
The Facts
Released September 24, 1993, "Dazed and Confused" was an immediate critical darling, but distributor Gramercy Pictures was unable to translate that into commercial success. Earning just shy of $8 million during its theatrical run, the film was hardly a hit, but it became a touchstone for the generation of moviegoers who were within the age range of the characters depicted in it. It currently lingers at 98 percent fresh on Rotten Tomatoes, and Quentin Tarantino put it on his list of the ten greatest films of all time in a 2002 article for Sight and Sound magazine.
---
What Still Works
Structurally, what works best about the film is that there's not one single development or storyline that feels forced. Even with a group of characters carefully orchestrated to be representative of two generations of students, passing the torch from one to another, and the narrative throughlines that make the film's time frame a coming-of-age experience even for the ones who feel like they're running things, there's nothing hurried or calculated about the structure of the film. Each new scene flows smoothly from the previous one, and each character's behavior feels authentic and lived-in, whether they're meant to be a hero (Mitch Kramer), villain (O'Bannion), or something in between (Wooderson).
The opening sequence, set to the beautiful strains of Aerosmith's simmering classic "Sweet Emotion," perfectly introduces all of the characters and defines in some way what their journey will be. For Randall "Pink" Floyd (Jason London), he has to decide whether or not he'll sign a piece of paper committing himself to another year playing football, with the added proviso that he won't partake in drugs or alcohol while doing so. For most of his teammates, they want to see him sign it – even just to get the grown-ups off their backs – so they can go through their senior year as kings of the school. For Mitch Kramer (Wiley Wiggins), he's got to first survive the tanning of a lifetime from seniors who want to haze him as he enters high school, and then he's got to assimilate himself into a more grown-up world, which includes drugs, girls and a social hierarchy in which he's positioned to be Floyd's heir.
This particular thread is handled beautifully: he's a star pitcher in junior high, and when Floyd takes him under his wing, he tells Kramer that he got hazed "right after baseball practice," hinting at the trajectory that Mitch might take as he enters high school. Known and liked by classmates from all different social castes – just like Floyd – Mitch is appropriately awkward while still being the sort of kid to whom things ultimately come easily, making him the sort of versatile leader that Floyd became during his tenure in high school.
But Sabrina (Christin Hinojosa) is effectively Mitch's female counterpart, recruited by Mitch's older sister Jodi (Michelle Burke) to join in the victimhood en route to becoming a power player of sorts as they enter high school. Her interest in Tony (Anthony Rapp) speaks both to her ambition to be older and more grown up, and also her very real substance and intelligence, which connects more tangibly with a "nerdier" guy than someone Parker Posey's character Darla might like.
Meanwhile, the film's general attitude of acceptance of all of this behavior – good and bad – gives it an even-handed portrait of adolescence is typically portrayed either purely nostalgically or from a deeply pessimistic and critical point of view. For every terrible thing that Don (Sasha Jenson) says about or to a girl, for example, there's almost always someone there to acknowledge how degrading, reprehensible or just stupid it is. Tony, Cynthia (Marisa Ribisi) and Mike (Adam Goldberg) openly comment upon the way that the entire community has accepted the ritualistic hazing of incoming high schoolers, and while that doesn't necessarily suggest that the film accepts that behavior as tacitly, it observes that for better or for worse, this is a part of growing up that was, is and can be formative to many teenagers, even if it's awful, painful or traumatic.
But thankfully, the film also recognizes that as bad as some of it is in the moment, it's also a part of growing up that everyone will or perhaps should experience, because it's a trial to examine what sort of person you might become. (That Tony and Sabrina have a specific conversation about the formation of personalities only punctuates this idea in the film.)
Cinematically, it exudes a visual and cultural authenticity in that it doesn't paint the entire film with the broad brush of "'70s style was horrendous," but it keenly observes the variety of people and personalities and how they all chose to express or define themselves through their clothing and appearance. While I certainly wasn't around (I was about six months old) at the time in which the film takes place, it has a sort of glossy, vivid look – thanks to ace cinematographer Lee Daniels – that's at once nostalgic and real, and the characters don't feel anachronistic or deliberately reflective of attitudes that benefit from the perspective of hindsight, even if there are several jokes in the film that hint at their naivete that this can only get better, and/ or what they're dealing with at the time sucks.
---
What Doesn't Work
While I think Jason O. Smith gives a wildly uneven and mostly terrible performance as Melvin – an opinion which appears to be reinforced in the fact he never worked as an actor again – I don't think there are any parts of the movie that "don't work." Even when he's being sort of awkward and actorly in delivering lines at key times in a sequence of events, however, they are less jarring than conspicuously structured, and the rest of the performances are so naturalistic, lived-in and believable, his is ultimately of negligible impact to the rest of the film.
---
The Verdict
"Dazed and Confused" may or may not be on of the ten greatest movies ever made, according to Tarantino, but it's a masterpiece, now or at any other time. Artistically it has an honesty and a purity without being needlessly highfalutin, intellectual or disconnected from simply being hugely entertaining. And ultimately the reason for its timelessness and longevity is that what the film has to say is that that time in every person's life is essentially the same, no matter what generation you're a part of – which is to say that it's awful, fantastic, the best things will ever be, as well as the worst, and probably most importantly, having those feelings as if no one ever before or ever again had them. The perspective that the specificity of teenagers' experience makes their set of circumstances totally unique to all other moments in the history of teenagers – and that, oddly, that specificity only reinforces the universality of all teenagers' experiences at that time — and the endless relatability of the film to audiences as a result.
Leave your own thoughts on "Dazed and Confused" in the comments below, or on Facebook or Twitter.