"The Dark Knight Rises" viral campaign issues a warrant for Batman's arrest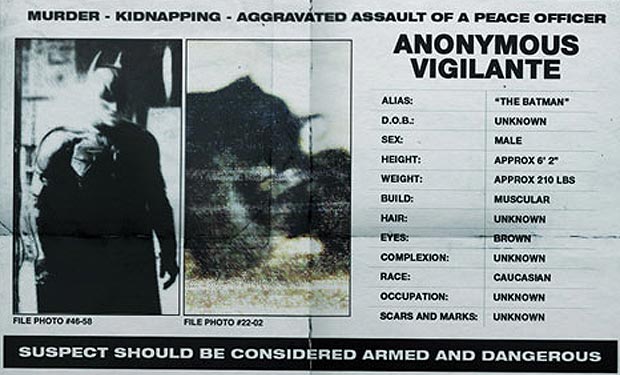 Posted by Terri Schwartz on
Gotham City wants Batman incarcerated, and it's up to us to help out.
A whole bunch of new files have been added to the "Dark Knight Rises" official website, and those of you keeping up with the movie's viral campaign are going to eat this up. A warrant for Batman's arrest and wanted ad have been posed to the site, as well as a way for fans to unlock stills from the upcoming trailer.
"The anonymous vigilante known as the Batman is responsible for six deaths, including two police officers and District Attorney Harvey Dent. The perpetrator is also wanted for the kidnapping and endangerment of Commissioner James Gordon's family, and the aggravated assaults of several Gotham Police Personnel," the ad reads. "The Batman has never been seen out of his mask and tactical uniform. He has been known to drive a large military-type vehicle, but this vehicle is believed to have been destroyed and abandoned. He has more recently been seen driving a two-wheeled vehicle of an unknown make and model."
The wanted ad asks for people with more information on the Batman to contact #tdkr07202012. It's strange that the Gotham Police Department is asking people to contact them via Twitter with a hashtag that involves "The Dark Knight Rises's" release date, but who are we to judge how their city does business?
The documents posted on the movie's website list a bunch of international addresses suggesting possible locations where Batman-related information can be found. The locations for the US and Canada just went live today as well. Fans at SuperHeroHype have been plugging away at this right now, and you can see all of the unlocked trailer screenshots at TDKR07202012.com. In all likelihood, we'll have the whole thing unlocked by the time the trailer premieres before "The Avengers" on Friday.
And, while we're looking at these images, we can't help but notice how similar Joseph Gordon-Levitt looks to Liam Neeson right before the train was blown up in "Batman Begins." We hadn't really considered the fact that he could be Ras Al Ghul after the Lazarus Pit regeneration before, but it certainly does seem like a possibility now that we're looking at this shot of Levitt.
Are you going to take part in the new "The Dark Knight Rises" viral event? Tell us in the comments section below or on Facebook and Twitter.