New "The Dark Knight Rises" footage reveals Bane's dialogue is no longer muffled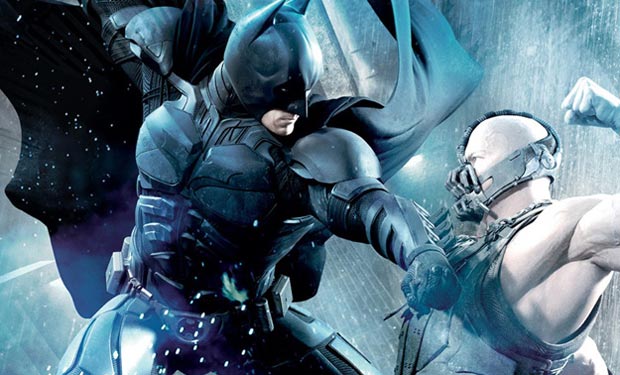 Posted by Aubrey Sitterson on
It's CinemaCon week, when gaggles of theater owners descend upon Las Vegas to drink, party, stumble around a trade show in the daylight hours and most importantly, catch film debuts and clips from numerous studios. But of all the news coming out of the event, one particular tidbit has caught our attention: That new footage from "The Dark Knight Rises" now features cleaned up Bane audio.
When we first heard Tom Hardy's Bat-villain speak in trailers and clips last year, the actor was largely indecipherable, sounding as if he was speaking through a muffled metallic mouthpiece, which, incidentally, he was. But as seemingly the entire internet made jokes, parody videos and blanket proclamations, director Christopher Nolan stood his ground, saying that Bane's muffled dialogue was an intentional choice and would remain as-is for the final release.
But now, Bleeding Cool has picked up on what a lot of individual sources have noted about the newest "Dark Knight Rises" clips, namely that Hardy's dialogue is as clear as day. There's been no word yet about why the change was made – whether it was Nolan's call or perhaps someone at Warner Bros. who was tired of people sending him Bane mumble memes – but regardless of the reasons, you'll no longer need to strain yourself to hear what the drug-addicted supervillain has to say.
As of right now, the clips shown at CinemaCon aren't available anywhere online, so unfortunately you'll have to wait to hear Bane's newly unobscured voice for yourself. However, Bleeding Cool points out that a new trailer for the film should screen prior to "The Avengers" next week, so you shouldn't have to wait too long to hear Hardy's dulcet tones.
What do you think about the choice to clean up Bane's dialogue? Tell us in the comments below or on Facebook or Twitter.