Adam Brody and Whit Stillman talk "Damsels in Distress" and dating losers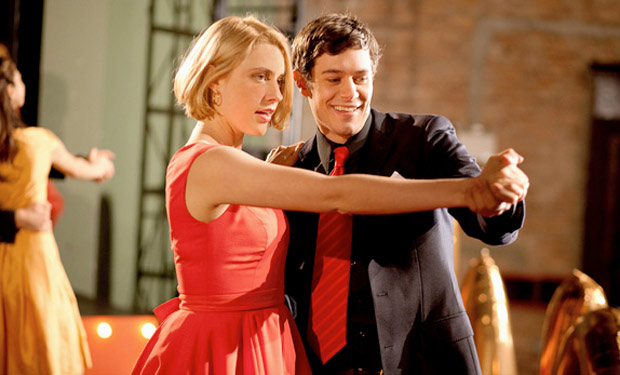 Posted by IFC on
By Jennifer Vineyard
It's called "Damsels in Distress," but Whit Stillman's first movie in 14 years (like "Metropolitan," "Barcelona," and "The Last Days of Disco" before it) also has quite a few dudes in distress as well. This time, they are played by Adam Brody, Billy Magnusson, Ryan Metcalf, and Hugo Becker (best known for his role as Blaire Waldorf's quasi husband on "Gossip Girl").
"People were saying to me, 'Oh my gosh! How did you get Prince Louis in your film?'" Stillman told IFC, laughing. "He has the same manager as I do, that's how."
"The part I'm playing is so different," Becker enthused. "I'm really playing a bad guy. You'll see. I'm an ass in the movie. I think some people will definitely hate me after this."
Becker's character, Xavier, was originally written as an American college student, but was changed to be a French man once he won the role, which makes his request for "Cathar love" seem all the more cosmopolitan. (Don't know what "Cathar love" is? Stillman laughed, "Look it up.")
"Xavier is supposed to be trying to save the girls from their troubles," Stillman said, "but he does scabrous things, sort of. But he doesn't like talking about it."
Boys like Xavier contribute to a theory espoused by the lead character Violet (played by Greta Gerwig) — that falling for handsome and intelligent guy is a sure path to suicide. (Hence, her work at a suicide prevention center). Violet and her college friends try to date the less handsome (such as Metcalf's Frank) or the less intelligent (such as Magnusson's Thor), or as she puts it, the "frankly inferior," but she still feels herself strangely drawn to the suave Charlie (played by Brody).
"Violet's theory that you should date losers, that you shouldn't date on your level is mostly a rationalization," Brody said. "Whit Stillman doesn't even actually subscribe to that theory himself, even though he's had that idea repeated in other movies. But it is such a unique theory, because he's literally championing the exact opposite of what every other movie tells you."
For instance, once Violet realizes "Charlie" is actually Fred, and that he's been telling lies to her friends about who he is and what he does for a living, she's even more attracted to him, not less. "We're told that lies are bad and that honesty is the best policy," Brody said, "but that's not actually the case. And this isn't an instance of just telling a polite fib to protect someone's feelings, or a little fib about your age. What Stillman is championing is reinvention, that you can present how you'd like to be seen. That my character invents his name and his job title is not the worst thing he could do, and Violet sees that as totally fine and even acceptable."
By embodying many of Stillman's recurring themes — as Chris Eigeman used to — Brody becomes a bit of the writer/director's surrogate. In fact, Stillman hopes to pair the two actors in his next project. "I don't know why he's taken such a liking to me," Brody said. "I'm flattered, but I don't feel nearly as sharp as Chris Eigeman. I'm not worthy!"
Brody confessed to looking up the more mannered vocabulary in Stillman's script, so he could play catch-up. (He was the last one cast and had little time to prep).
"I wanted to zip my tongue around it, so I looked up decadence, dandyism, sublimation, as it relates to literature," he said.
That's because his character Fred proposes that the topic of his paper will be "The Decline of Decadence": "Take the flit movement in literature, or homosexuality. It's gone completely downhill. Right down the tubes. Before, homosexuality was something refined, hidden, sublimated, aspiring to be the highest forms of expression and often achieving them. Now it just seems to be a lot of muscle-bound morons running around in T-shirts. It's pretty disillusioning." Violet then asks him, "Are you gay?" "Not especially, but in another era, it would have had more appeal. Now, I just don't see the point," he tells her.
"I even asked Whit for a reading list," Brody said. "Some of the stories I had read before: Evelyn Waugh's Scoop, Tolstoy's Childhood, Boyhood, and Youth, Jane Austen's Persuasion. I felt like I was going to college, though, and I was inspired to read even more. I was expecting to have all these discussions with Whit like my character does in the movie, and none of that happened. I mean, we had some later, but not on the shoot. There was no time. But it wasn't necessary to understand all of his philosophical musings to play the part. He's just operating on a much higher level."
Despite the discussions of homosexuality and sodomy in the script, Brody said everything on and off set was kept very "chaste" — no cursing allowed. "When Whit found out I was doing [the "Deep Throat" movie] Lovelace, he said, 'Oh no. I hope you're not doing any nudity,'" the actor said. "Yes, he just wrote a movie that has anal sex, but that's a ruse — it's more a quest for a higher spirituality, if that's possible."
Brody compared "Damsels" to "The Last Days of Disco," "when you had a character doing coke and sleeping with a stripper": "Yes, there's a club scene, and it's a sexually charged atmosphere with drugs everywhere, but they have a philosophical discussion. They're relentlessly upwardly mobile."