"Captain America" sequel gets a release date, and new "Avengers" image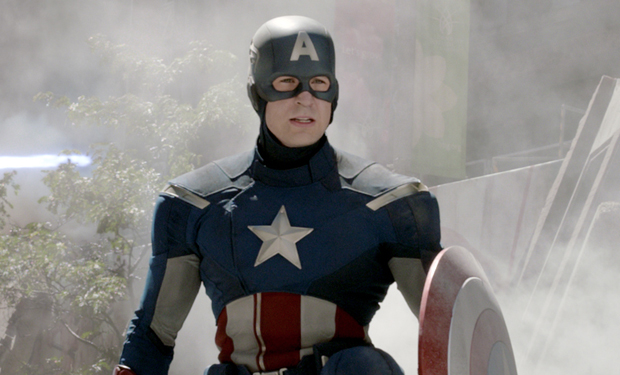 Posted by Rick Marshall on
With the "Avengers" premiere just a month away, Walt Disney Studios has announced the release date for the sequel to "Captain America: The First Avenger," and offered some details about Chris Evans' next solo adventure as soldier-turned-superhero Steve Rogers.
While the announcement doesn't provide an official title for the film, it does reveal that the "Captain America" sequel will hit theaters April 4, 2014. The announcement was also accompanied by a new image from "The Avengers" showing Captain America atop a car in the midst of a rubble-strewn city street.
Possibly the interesting element of the announcement, however, is what it says about where the sequel will fall in Marvel's cinematic timeline.
According to the studio, "The second installment will pick-up where the highly anticipated Marvel's 'The Avengers' (May 4, 2012) leaves off, as Steve Rogers continues his affiliation with Nick Fury and S.H.I.E.L.D and struggles to embrace his role in the modern world."
This is actually a major piece of news, as there's been some debate as to whether the "Captain America" sequel would further explore the character's adventures during the World War II era, or see him fighting bad guys in the modern era. Back in October, IFC spoke to "Captain America" writers Christopher Markus and Stephen McFeely about their plans for the sequel, and the pair offered up some thoughts on why a modern-day adventure could afford them better storytelling opportunities.
"So much of Captain America's adventures occur in the present day, so there are a lot of things I'd like to touch on," said Markus.
"Still, if he had another adventure entirely set in World War II, the stakes are kind of lessened," added McFeely, "because you know he survives and you know what happens to Bucky and you know the Howling Commandos survive long enough to have a toast in a bar."
"You know Cap wins and you know that whoever he was fighting didn't destroy the world, because you've already seen things that happen after it," agreed Markus.
What do you think about setting the "Captain America" sequel in the moder era? Chime in below or on Facebook or Twitter.