Call-In Commentary: Watch the "Bernie" trailer with writer-director Richard Linklater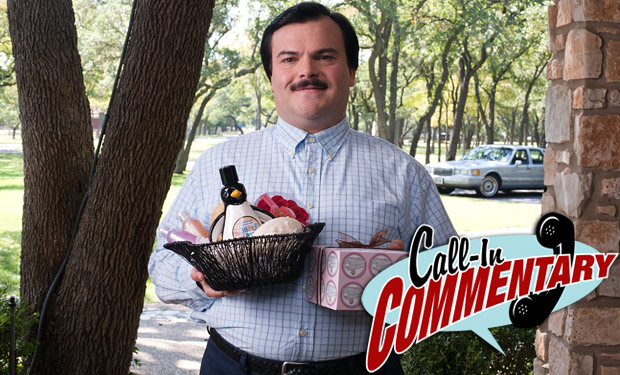 Posted by Brian Jacks on
Richard Linklater has gained a devoted following thanks to films like "Before Sunrise," "Waking Life" and "A Scanner Darkly." For his new project, "Bernie," he reteams with his "School of Rock" star Jack Black for a dark comedy about a mortician who befriends a cranky, wealthy widow (Shirley MacLaine). When she dies (not considered a spoiler), he goes to extreme lengths to maintain the illusion that she's still alive.
It's a quirky premise, to be sure, and one that Linklater excels in. That's precisely why we were thrilled to get him for our Call-In Commentary series, where filmmakers provide audio commentary to their movie trailer. In the video below, Linklater (bemused by the entire premise of trailer commentaries) takes us inside his film and the big question: exactly how much should they give away? Check it out below, and then catch "Bernie" in theaters this Friday.
video player loading
.
.
.
MORE CALL-IN COMMENTARIES:
– Watch "The Cabin in the Woods" trailer with star Fran Kranz
– Watch "The Moth Diaries" trailer with writer-director Mary Herron
– Watch the "Brake" trailer with star Stephen Dorff
– Watch the "Detachment" trailer with director Tony Kaye
– Watch the "Being Flynn" trailer with writer-director Paul Weitz
– Watch the "Tim and Eric's Billion Dollar Movie" trailer with Tim and Eric
View more Call-In Commentaries…
Will you be checking out "Bernie"? Let us know in the comments below, or on Facebook or Twitter.