New "Battleship" clip rolls out the giant machines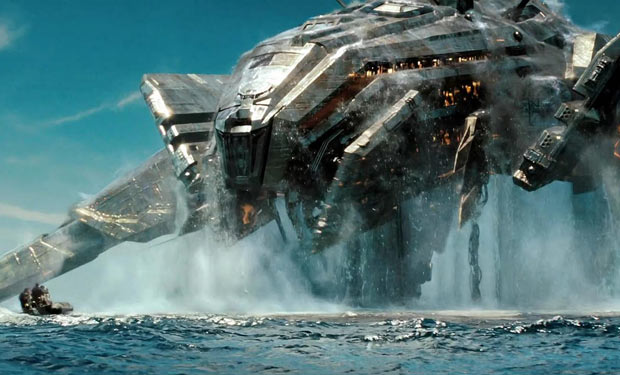 Posted by Aubrey Sitterson on
It's easy to joke about Peter Berg's "Battleship" movie. Initially it was an easy target for ridicule due to being based on a particularly story-less boardgame and later because of the fact that aliens were grafted onto it. Now, courtesy of a new minute-and-a-half clip of the film, all those people who can't just be content to see Alexander Skarsgaard in uniform might very well have some new things to complain about.
If you're wondering what the story of the film is, or what it has to do with, you know, actual battleships, this clip probably won't help you out much. It's more or less a 90 second action scene, with giant machines sprouting out of the ocean, spitting smaller, spiky rolling machines out, a quick glimpse of Landry from Berg's "Friday Night Lights" series, and the destruction of a bunch of helicopters. With all of the explosions and reaction shots from nameless soldiers, comparisons to "Transformers" aren't really all that off-base, though whether that's a good thing or a bad thing likely depends on your reception of Michael Bay's robot trilogy.
Judging from this particular clip, however, "Battleship" does have one advantage over "Transformers": The action is easy to follow. While the clip still features more than its fair share of explosions and CGI plasticy metal, the distinct lack of ever shifting, ka-chunk, ka-chunk, ka-chank robot monsters, makes the action here much easier to follow and keep track of. Also, credit where credit is due, no one in the clip looks at the camera and says, "You just sunk my battleship," so the clip has that going for it as well.
What do you think of the just-released scene from "Battleship?" Tell us in the comments below.