"The Avengers" clip features Scarlett Johansson in action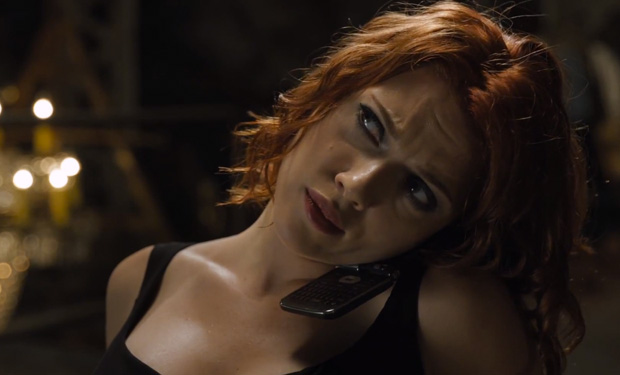 Posted by Aubrey Sitterson on
If you've been following "The Avengers" news even semi-vigilantly since last year, chances are you've seen a fair bit of the film. Between clandestine iPhone photos and videos of the set and filming, magazine spreads, full Nine Inch Nails-heavy trailers, character posters, Japanese trailers, set reports and officially released photos, there's quite a bit of Joss Whedon'sJoss Whedon's superhero team-up opus out in the world already. But in case you still don't have enough – or maybe just want to ogle Scarlett Johansson in tight black leather – Marvel has just released a new scene featuring the Avengers' sole female member, Black Widow.
Getting away from the bro-down sausage fest of some of the earlier footage, the footage shows Black Widow going it alone as she's interrogated by some generically European thugs and/or military personnel. Unlike the super serum-amped Captain America, the robot-suited Iron Man or the Norse god Thor, Johansson's character is merely human, albeit one with a few tricks up her sleeves. Watch the video below to get a look at the Black Widow in action.
"The Avengers" will see its world premiere in Los Angeles on April 11 before closing out the Tribeca Film Festival on April 28. We, however, will have to wait until May 4 to catch the film.
What did you think of this newest "Avengers" clip? Tell us in the comments below or on Facebook or Twitter.