The 10 "Arrested Development" secondary characters we want back for the fourth season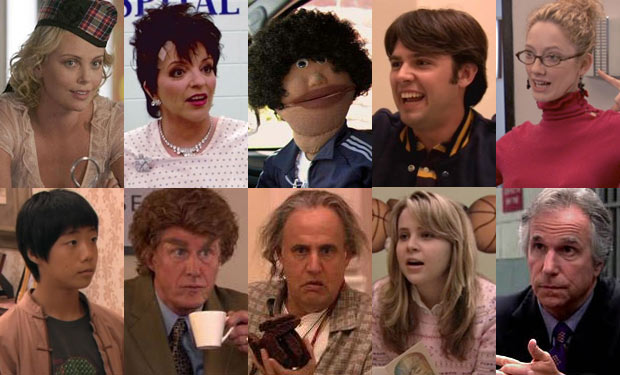 Posted by Terri Schwartz on
Sure, we still don't have a new season of "Arrested Development." No, Mitch Hurwitz and the cast still haven't started filming the show. And, yes, the chance of an "Arrested Development" movie hitting theaters any time soon seems to be diminishing rapidly, especially since Hurwitz never mentioned it during a recent Netflix event in Las Vegas. All of that stuff sucks for the time being, but at least we do have Bob Loblow.
At the event, Hurwitz confirmed that Bob Loblaw would have a role in fourth season of "Arrested Development." We were overjoyed, and that got us thinking of the other characters we'd love to see return. Nearly every secondary or one-shot character in the show left some sort of impression, so we picked out our 10 favorites and listed them off below. In our opinion, a fourth season wouldn't be complete without them.
Kitty Sanchez
If there's anyone who's going to bring down the Bluth family, it's going to be Kitty Sanchez. When IFC caught up with Judy Greer recently, she said she wanted Kitty to come back with all the Bluth's secrets and "take the whole family down." While we don't know if that awesome storyline is now officially jinxed, it would almost be criminal to have a fourth season of "Arrested Development" where we don't say goodbye to these.
Steve Holt
You know you're a character worth keeping when fans start a petition to get you involved with a new season of a show. Steve Holt is one of our favorite ongoing jokes in "Arrested Development." And now that we know Maeby and Steve are not first cousins because her mother Lindsay was adopted, Gob Bluth's bastard can again be the romantic competition for George Michael.
Annyong
Ah, Annyong, you got the greatest revenge of all on the Bluths when you orchestrated the second U.S. Securities and Exchange Commission raid on the family in the series finale. It only makes sense that Lucille's adopted Korean son — real name Hel-loh — come back in some capacity in the fourth season. After all, he'll obviously want to brag about how he brought the not-so-powerful Bluth family to justice. He at least should be happy to not be living in the model home's walls anymore.
Rita Leeds
No, we didn't just include Rita on this list because we're desperate for Charlize Theron to return to the show. Not only was the British plotline in "Arrested Development's" third season one of its funniest (and most tragic, to be fair), it's also the closest Michael has ever come to happiness. He ended up canceling his engagement to the mentally challenged millionaire daughter of two first cousins (sorry George Michael and Maeby) once he found out about her retardation, but that should be no reason to prevent her from returning to the show — or at least being referenced — this time around.
Ann Veal
Will Michael remember Ann's name if he saw her again in "Arrested Development's" fourth season? Probably not. But that will make it even funnier if she comes back to the show. Maybe she and George Michael have gotten serious again, or maybe she's still frisking around with Gob. Since Ann will likely be in her 20s now, it would be even more hilarious if she and Michael had started up a serious relationship (after all, he doesn't like older women) but it is a mandatory requirement that she is involved with someone in the Bluth family.