"Arrested Development" fourth season to be released all at once online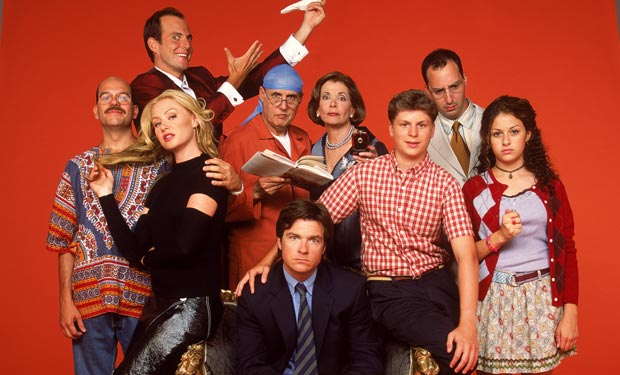 Posted by Terri Schwartz on
We still have a ways to wait before "Arrested Development" comes to a Netflix-capable device near us, but creator Mitch Hurwitz just announced a change in plans that will sweeten the deal. During a Netflix-sponsored event in Las Vegas, Hurwitz announced that they will be releasing the full 10-episode "Arrested Development" season at once.
Thank goodness for that. The original plan was to have each episode released like an anthology that would catch viewers up on what the various characters were up to in the time between the end of season three and these new episodes. The season would lead up to the movie, which will be released (hopefully) at some point in 2013. But Hurwitz said that his new plan for "Arrested Development" will make it "more like the old show again," according to Vulture.
To be clear, that means that all 10 new "Arrested Development" episodes will be released at once instead of over the course of two-and-a-half months. "There's something exciting about trying to break the form again," he said. The goal is to have people watch the new season all at once, and then go back and rewatch the episodes several time to try to catch all the red herrings and surprises that Hurwitz and his writers sprinkle in.
"There's going to be some mystery sprinkled throughout this [but] instead of watching one a week and try to get ahead of it, the hope is [fans] will watch them all together and then go back and look for clues and connections," Hurwitz explained. "We'd also like to use the technology to provide additional material, where you might be able to access another part of the story."
The plan is to have the show start shooting over the summer and be released on Netflix later this year. Unfortunately neither Hurwitz nor any of the cast in attendance at the event — Will Arnett, David Cross, Alia Shawkat, Jeffrey Tambor, and Jessica Walter — made any mention of the planned movie. Hurwitz did say he'd be open to making future seasons for Netflix, though.
Also, if you were hoping for the return of some of the show's beloved secondary characters, at least one has a role in the upcoming season. Hurwitz confirmed that Bob Loblaw — one of the lawyers hired by the Bluth family — will be back for the fourth season.
"It's kind of a one-joke thing. But if you guys don't mind bringing it back, we'll give it to you," he said. According to Vulture, the audience definitely didn't mind the idea.
Would you rather have more "Arrested Development" seasons or a movie? Let us know in the comments section below or on Facebook and Twitter.