Arnold Schwarzenegger talks about "Twins" sequel "Triplets" featuring Eddie Murphy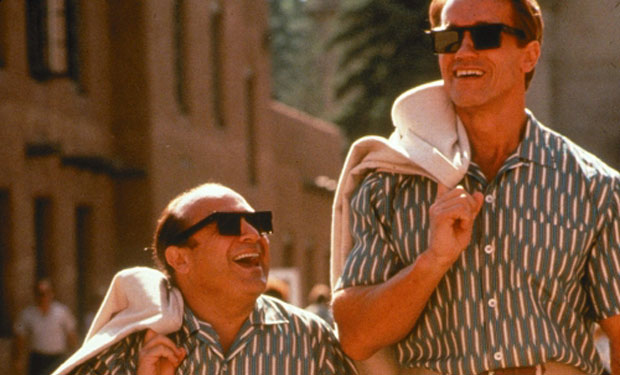 Posted by Aubrey Sitterson on
Last week we heard all about the shockingly-not-an-April-Fools-joke news that Arnold Schwarzenegger and Danny DeVito would return for a sequel to their 1988 comedy "Twins." The film, appropriately titled "Triplets," would also star Eddie Murphy as a hilariously mismatched third brother. Now, via a just-released interview, we have confirmation of Schwarzenegger's interest in the project, as well as some of the former governor's marketing ideas.
The interview was conducted by ComingSoon late last year, but due to an embargo is just coming to light now. Interestingly, while Schwarzenegger seems very into the idea, stating "I would love to do another 'Twins'," at the time the interview conducted, Murphy's involvement seems like only a possibility. Schwarzenegger explains that he'd want the third brother to be played by "somebody like Eddie Murphy" and that the resulting film "would be hilarious with what he knows about someone like him."
The best part of Schwarzenegger's quotes about "Triplets," however, have to do with his thoughts on how to market the film, which he would advise releasing around December 5th, in time for the holiday season. His ideas really only extend so far as posters and billboards with the three actors and "They found another one!", "Triplets!" and "Only their mother can tell them apart!," but I'm not going to lie: That's an ad campaign that kind of totally works for me. Pending the announcement of an actual writer and/or director on the film, which is currently without both, "Triplets" could end up being a pretty solid piece of comedic entertainment.
What do you think about the "Twins" sequel? Would you watch Schwarzenegger, DeVito and Murphy as brothers? Tell us in the comments below or on Facebook or Twitter.