Adapt This: "WinterWorld" by Chuck Dixon and Jorge Zaffino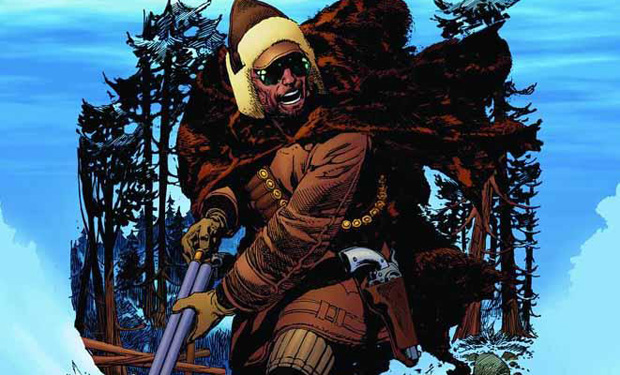 Posted by Rick Marshall on
With Hollywood turning more of its attention to the world of graphic novels for inspiration, I'll cast the spotlight on a new comic book each week that has the potential to pack a theater or keep you glued to your television screens. At the end of some "Adapt This" columns, you'll also find thoughts from various comic creators about the books they'd like to see make the jump from page to screen.
---
This Week's Book: Winterworld by Chuck Dixon and Jorge Zaffino
The Premise: The world has frozen over from pole to pole, leaving what remains of the human race to forage in the snow and ice for the means to survive. Scully is a trader who travels between outposts, trading what he can scavenge from buried malls and other long-abandoned hubs of civilization. Everything changes when he crosses paths with Wynn, a young girl he rescues from a pair of savage settlers, and Scully and his pet badger Rahrah suddenly find themselves caught between two warring tribes in a battle for resources.
The Pitch: Think "Water World," but with snow and ice instead of water, and a far better story, too.
WinterWorld actually predates the much-maligned Kevin Costner film by nearly a decade, and after reading this classic 1980s miniseries, there's reason to believe Dixon and Zaffino could be owed some money from the "Water World" team — though it's understandable if they opt not to draw any comparisons between their celebrated series and the soggy, 1995 box-office flop.
In WinterWorld, Dixon has crafted a great, post-apocalyptic adventure that manages to be compelling without any of the flashy, sci-fi gimmicks often used to hide lackluster character or story development. There's very little going on in WinterWorld that doesn't have roots here in the present-day, sunny world we know, and there's little need for mutants or monsters to make the story's setting any more frightening than it already is.
Tonally, WinterWorld is more similar to "The Walking Dead" than "Water World," with its characters pushed from one seemingly safe place to another in their constant struggle to survive, and forced to deal with a variety of colorful (and dangerous) personalities in order to make it to the next day. There's very little thought toward the bigger picture here or some world-changing element that could bring the world back to what it used to be — there's simply the need to live and stay warm.
While Dixon's original series topped out at a robust 80 pages, there's still room to expand on the characters of Scully and Wynn in a big-screen adaptation, though the danger would be to shoe-horn in some element of romance where there shouldn't be any — whether between Scully and an aged-up Wynn or an additional character that wasn't present in the comic. The pair works as reluctant friends, and more of an uncle-niece dynamic than a father-daughter situation.
As far as other characters go, WinterWorld is a cornucopia of fun villains and other colorful roles for talented actors to chew on, from the burly Big-Bite, chief of the Bear People, to Bossman and his henchmen, who run a massive farm built out of an enclosed sports stadium.
That brings up one of the other appealing elements of a "WinterWorld" movie: the amazing set pieces that such a project would require.
From underground, frozen-over malls to the aforementioned "Tiers" — a farm that fills the field and rows of a covered baseball stadium — there's ample material for production designers to flex their creative muscles and come up with memorable shots that have never been seen before on the screen.
The Closing Argument: One of the things many critics of "Water World" kept repeating in their reviews is that the film had a lot of potential that was never realized. With an adaptation of WinterWorld, there's a chance to correct that mistake and give audiences a post-apocalyptic adventure with interesting, realistic characters and a grounded story with real stakes for everyone involved.
Oh, and don't forget about Scully's badger pal, either. Badgers are the new wolves.
Seriously, though — if you find a director who can think big without letting the characters be overshadowed by the world they inhabit, there's a good chance this critically praised comic could find a warm reception on the big screen, too.
---
This Week's Comic Creator Recommendation: Knights of the Living Dead by Ron Wolfe and Dusty Higgins (SLG Publishing)
"There is a palm-to-forehead-worthy obviousness to the idea of knights battling zombies. After all, the two hottest shows on TV right now feature the undead (The Walking Dead) and swords and sorcery (Game of Thrones). A story that jams these two genres together is sweet ambrosia for studio execs. What I love about Knights of the Living Dead—written by former Hellraiser scribe Ron Wolfe and illustrated by my Pinocchio collaborator Dusty Higgins—is that, instead of simply resting on the clever premise, it offers one of the most thoughtful meditations on the King Arthur mythos that I've yet seen. It could've been straight fanboy porn. Instead it is a literary show of force. A literary show of force that features copious amounts of knights slicing through hordes of zombies."
– Van Jensen, author of Pinocchio, Vampire Slayer and Pinocchio, Vampire Slayer and the Great Puppet Theater. The third volume, Pinocchio, Vampire Slayer: Of Wood and Blood, will be released in two volumes in July and August. His new series, Snow White: Through a Glass, Darkly, is serializing digitally.
---
Would "WinterWorld" make a good movie? Chime in below or on Facebook or Twitter.