Adapt This: "Echoes" by Joshua Hale Fialkov and Rahsan Ekedal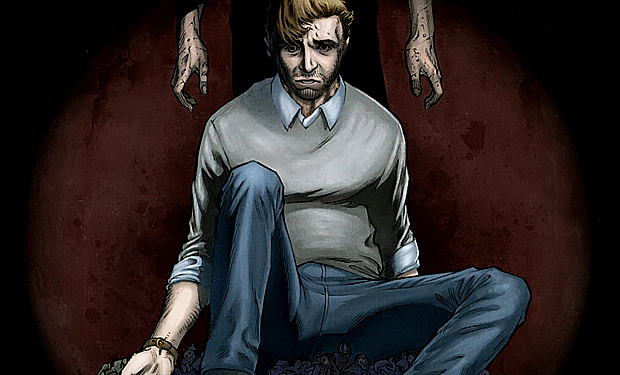 Posted by Rick Marshall on
With Hollywood turning more of its attention to the world of graphic novels for inspiration, I'll cast the spotlight on a new comic book each week that has the potential to pack a theater or keep you glued to your television screens. At the end of some "Adapt This" columns, you'll also find thoughts from various comic creators about the books they'd like to see make the jump from page to screen.
---
This Week's Book: Echoes by Joshua Hale Fialkov and Rahsan Ekedal
The Premise: A schizophrenic man begins to believe his father was a serial killer after the dying man makes a deathbed confession. As he tries to uncover the truth, his father's past comes back to haunt him, and he begins to wonder whether he's destined to go down the same terrible path.
The Pitch: Widely regarded as one of the best miniseries of 2011, Echoes is an easy sell for adaptation. It's a standalone story that's absolutely terrifying, and doesn't require many (if any) expensive effects.
Tonally, Echoes fits right in among the modern psychological thrillers that leave you guessing right up until the very end about what's real and what is simply the product of the protagonist's damaged psyche. Main character Brian Cohn is a medicated schizophrenic struggling to maintain a normal life, and his acute awareness of the disease that shapes his perception keeps both him — and the story's audience — uncertain of the truth.
On top of everything else, the suburban setting for Echoes makes the events that unfold even more unsettling.
While a good adaptation of Echoes would certainly demand an R-rated feature, there's also ample room for a screenwriter to expand the story a bit and fill out some of the characters — something that should appeal to any studio that picks up the project. Originally published as a five-issue miniseries, the bulk of Echoes focuses entirely on Brian and unfolds through his narrative, leaving plenty of room to build up some of the story's supporting characters on the screen.
Finally, at a time when "twist" endings are all the rage, Echoes offers a disturbing, dark spin on that well-used trope that will keep audiences thinking about the story's final moments long after the credits roll.
The Closing Argument: A psychological thriller with a unique narrative angle (the uncertainty caused by Brian's schizophrenia) and ample amounts of horror and shock value, Echoes is the sort of project that should have an easy time jumping from page to screen. If the adaptation can capture even half the creepy tone of its source material, an "Echoes" movie will be right up there among the scariest films made in recent years.
---
This Week's Comic Creator Recommendation: The Strange Talent of Luther Strode by Justin Jordan, Tradd Moore and Felipe Sobreiro (Image Comics)
"With an origin story matching that of Spider-Man, that's where the similarities end in this blood soaked coming of age/powers story. I'd love to see this series broken down into a 6-episode mini series on Starz or HBO, with special effects resembling that of '300' or 'Spartacus: Blood and Sand.' While the violence serves as a distraction, the real meat here is a tale about a teen from a broken home struggling to feel safe, to feel powerful."
– Ryan Sohmer, author of the insanely popular webcomics Least I Could Do and Looking for Group, as well as the comics industry parody series The Gutters.
---
Would "Echoes" make a good movie? Chime in below or on Facebook or Twitter.