Adam McKay reveals details about "Anchorman 2" plot and backstory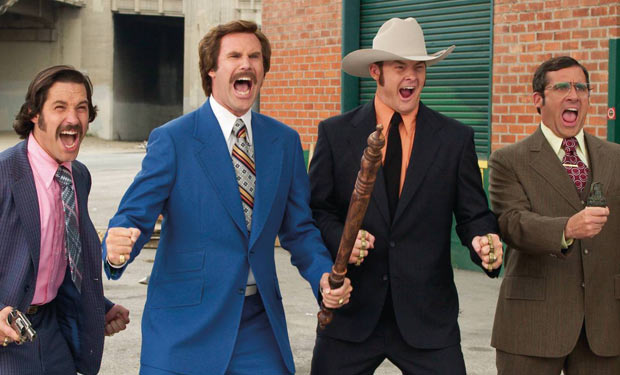 Posted by Terri Schwartz on
If you hadn't already heard, we're pretty freaking excited about "Anchorman 2." Fortunately, we aren't alone in that. Director Adam McKay spoke about the long anticipated sequel with Salon and The Hollywood Reporter and had plenty to say about the film.
First off, he and Ferrell are going to likely start writing the script next week with a planned shooting start date of January or February and release anywhere between Christmas 2013 and May 2014. And even though Christina Applegate's Veronica Corningstone is not going to be Ron Burgundy's lady love this time around, McKay does believe there will be a role for her in the film.
"I don't want to give away too much, but I'll just give a couple pieces of ideas that we've kicked around. Keep in mind we're still writing the story, but I'll say one phrase for you: custody battle. I'll give you that. I'll give you one other one: bowling for dollars," he told Salon.
He added to THR, "Kind of in the 'Austin Powers' tradition, they always flip out the lead lady. No, we haven't written it yet, but we have an idea for [Applegate] that we think is pretty cool. So tentatively right now she's in."
McKay went on to explain how "Anchorman 2" finally, finally, finally got made (another movie at Paramount fell through) and dish what the budget for the film will be ($50 million). But one of the more interest aspects from the THR interview addresses what time period "Anchorman 2" will take place during.
"I'll tell you we're staying roughly period, and I would just say it's the next stage in the development of American media and news. The fun of these characters is they confront change very poorly. [laughs] So they've got some more change coming their way. I can say that pretty safely," he teased.
As eight years have passed since "Anchorman" was released, our guess is that a similar amount of time will have elapsed on screen as well. Does that mean we'll get a chance to see our favorite Channel 4 news team living in the 1980s? Only time will tell.
Turns out that the cast is about as ecstatic about the green light as we are. McKay described their response as "overjoyed," which is good considering they all agreed to come back on board for the sequel.
"I bumped into [David] Koechner, who was just beaming," McKay tells THR. "[Paul] Rudd sent me an email, 'I can't believe it! Oh my God!' When the announcement was coming on 'Conan,' I saw [Steve] Carell tweeted it. It's one of those pure joy type projects, where we just had so much fun on the first one. We're all still friends. It's going to be fun as hell, man. We couldn't be more excited.
What do you think of these new details about "Anchorman 2"? Tell us in the comments section below or on Facebook and Twitter.