The 10 most hilariously disgusting food moments in comedies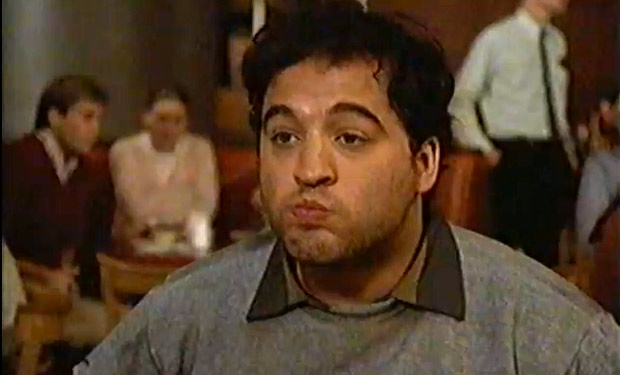 Posted by Terri Schwartz on
"Funny Farm" — Lamb Fries
Of all the testicles jokes we've seen in movies, this one has got to be the weirdest. Maybe lamb fries are a delicacy up in Vermont that everyone knows about, but it would have been nice for the restaurant's waitress to explain to poor Andy Farmer in "Funny Farm" that they are actually sheep's testicles. Somehow we doubt Chevy Chase would appreciate it if we continue to call him "Mr. Lamb Fries."
---
"Not Another Teen Movie" — Banana Butt
Sure, Ali Larter's whipped cream scene in "Varsity Blues" was one of the sexiest food scenes we've seen come out of the past few decades. But "Not Another Teen Movie" took that to a whole new level when (a very young) Chris Evans gave the famous scene his own little twist. Let's just say we're pretty impressed with how well that banana stays up his butt.
---
"Stand By Me" — Barf-O-Rama
The barf-o-rama scene in "Stand By Me" has got to be the number one reason why we've decided to never partake in a pie-eating contest. The sounds coming out of Lardass's stomach in this scene are some of the most terrifying noises we've ever had the displeasure of hearing. And that straight spout of vomit that comes out of his mouth is something that would do "Team America" proud.
---
"Animal House" — Food Fight
Few men are skilled enough to load up on cafeteria food and start a food fight quite the was John Belushi does. His "I'm a zit, get it?" scene in "Animal House" is simultaneously disgusting and impressive, and one of the many reasons that we're still so obsessed with this movie.
---
"Bridesmaids" — Food Poisoning
Okay, so this scene technically takes place after a food-eating scene, but we feel it deserves to be on the list anyways. We aren't sure if the world was happy or terrified when they found out thanks to "Bridesmaids" that women can be just as gross as men in films. And it only helps that Melissa McCarthy is likely the only person to earn an Oscar nomination for shitting in a sink.
What are some of your favorite gross-out food moments in movies? Tell us in the comments section below or on Facebook and Twitter.