The 10 most hilariously disgusting food moments in comedies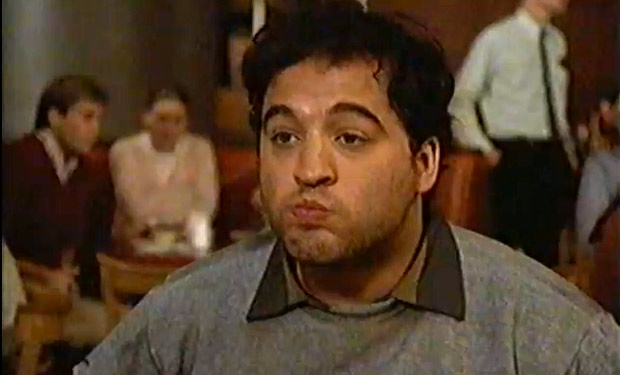 Posted by Terri Schwartz on
With "American Reunion" due in theaters Friday, only one thing is almost guaranteed in the movie: more pie. It's been 13 years since "American Pie" first hit theaters, and in the time between we've never quite been able to unhear the phrase "it's like warm apple pie."
In honor of the iconic food scene from "American Pie," we've decided to compile a list of our 10 favorite hilariously disgusting food moments in film. Be warned, they are not for the faint of heart or fickle stomach. But consider this our toast to "American Reunion," adding a few more moments to this truly gross list.
---
"American Pie" — Warm Apple Pie
Ah, the one that started it all. Jason Biggs will likely never live down his one infamous encounter with a warm apple pie, but we'll never forget the look on Eugene Levy's face when he catches his onscreen son in the act. And we've never been able to look at apple pie the same way since.
---
"Role Models" — Bagel Dog
"Role Models" changed a lot about how we looked at life, love and Jane Lynch, but we never expected that it would influence the way we looked at hot dogs. Unfortunately, Lynch's infamous bagel-dog scene has now scarred us forever. There's no coming back from that.
---
"Waiting" — Pissed Off Waiters
If there's one thing we learned from "Waiting," it's don't piss off your waiters and ask for your food order to be remedied. One unfortunately bitchy customer was in for the meal of her life after she pissed off the men in the kitchen. But she did sort of deserve it because she broke the cardinal rule of restaurants: Don't fuck with people that handle your food.
---
"Spaceballs" — Pizza the Hutt
When it comes to gross-out humor, "Spaceballs" might not be the first movie you think of. But the more we watch the flick, the more Pizza the Hutt disgusts us. I mean, the Jabba the Hutt rip-off even makes Barf want to Barf. And before you try to argue that Pizza the Hutt is a character and not a food, let's not forget that Pizza ate himself… to death. Up next, "Rocky 5000."
---
"Van Wilder" — Special Cream Puffs
It doesn't matter how douchy someone is, we aren't quite sure anyone deserves the revenge Van Wilder got on Richard Bagg in this flick. Seriously, filling up cream puffs with dog semen? We can't even think about it without our stomach's getting upset. In the end, only Van's dog came out of that scene happy.