The 10 best George Carlin specials (with video)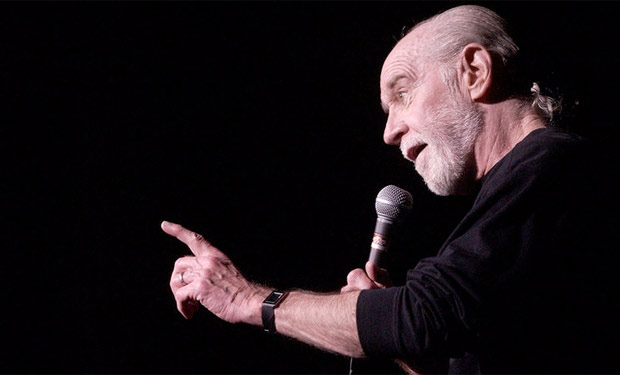 Posted by Andy Hunsaker on
5. "Doin' It Again" (1990)
The latter-day Carlin incarnation that inspired all of the best of the modern-day comedians has officially arrived, as he's dressed in all black, as he would for every show from this point forward. While the long hair is returning, silver as it is here, he's definitely not Hippy or Dippy anymore. The stuff he says here would never have come out of the mouth '70s Carlin – or most anybody else in the world, for that matter. His fight against people trying to control freedom of speech and freedom of thought leads to him attempting to prove the notion that rape can be funny, depending on where the exaggeration of the joke is. "Imagine Porky Pig raping Elmer Fudd." This isn't the feminists's favorite show, but it's hard to argue the point he's making, considering all the challenges to the First Amendment that are still cropping up to this day.
---
4. "Jammin' In New York" (1992)
This one would be Carlin's personal favorite, and with good reason. He opens by hammering the ridiculousness of the first Gulf War, takes a detour into the small stuff we share, then delivers a treatise on the inherent evils of golf courses in the face of homelessness, then hauls off and delivers a hell of a knockout punch to self-centered environmentalists by attacking their true motivations to 'save the planet' while agreeing with their central premise in a bleak, brutally honest way. "The planet is fine. The people are fucked." He says that with some pride, indicating that he's actively rooting for society to collapse.
---
3. "Back In Town" (1996)
Once again, he opens with an assault on the anti-abortion people and the hypocrisy of the "sanctity of life" notion. "Not every ejaculation deserves a name." Then spins it into some imaginatively brutal ideas for televised capital punishment, building it into an epic conceptual bit about fencing off rectangular states and making them into prison farms. After a healthy dose of free-floating hostility, he closes by explaining why he doesn't bother to vote in our horrifyingly corrupt political system. Once again, Carlin says things like this and it becomes cathartic for the rest of us needing an outlet to vent about how screwed the system is.
---
2. "You Are All Diseased" (1999)
While it's a little disconcerting to realize that George didn't always wash his hands after he went to the bathroom, this one is legendary for its evisceration of "the all-time champion of false promises and exaggerated claims, religion," which he terms "the greatest bullshit story ever told." He takes it apart clinically, and then explains why he worships the sun and prays to Joe Pesci instead. In the special following this one, 2001's Complaints & Grievances, he'd concede a little ground on 'there is no god,' but only so he can make a point that the Ten Commandments could be reduced to one sentence. The former Catholic been eloquent about his atheism, and never moreso than here.
---
1. "It's Bad For Ya" (2008)
Just as essential as the first one is the last one, when Carlin had just turned 70 and officially declared himself "an old fuck – it's kinda like a fat fuck." Televised live less than four months before his death, you could see how much various health issues had slowed him down over the last ten years – physically, at least. Never mentally. He may not have been so exaggerated with his movements anymore, but his ideas are still as entertaining as they are incisive. Still shredding the sentimentality surrounding mortality, still deriding the idiocy of our unquestioning culture and our boring day-to-day lives, and still having no tolerance for bullshit on a personal level, a governmental level or a metaphysical level. After an unprecedented career of comedy and savage satire, and a final treatise on how the very notion that anyone on this planet has "rights" is bullshit, his last words to us (not counting his posthumous autobiography Last Words, of course) are "the next time some asshole says to you 'I have a right to my opinion,' you say 'oh yeah? Well, I have a right to my opinion and my opinion is you have no right to your opinion.' Then shoot the fuck and walk away." Genius, wordplay and hostility, all at once. That's what made George Carlin the best of all time.
What is your favorite George Carlin special? Tell us in the comments below or on Facebook and Twitter.