The 10 best Earth in distress movies (with video)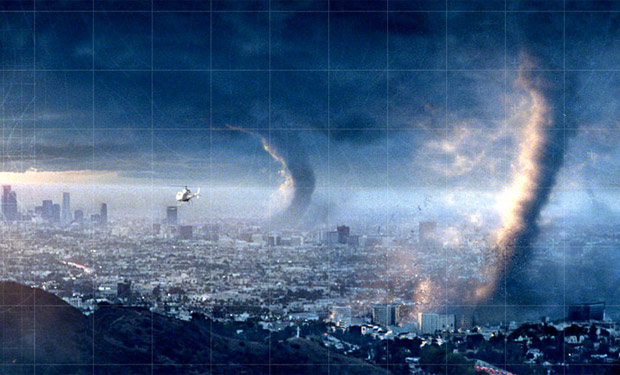 Posted by Bryan Enk on
What chance does our poor planet have against nature and aliens? Here are ten films featuring the Earth taking a licking (and sometimes not continuing with the ticking).
---
"Armageddon" (1998)
"Bad Boys" was great, but Michael Bay really got to flaunt his genius in what would be the first of his many large-scale sci-fi action adventures. No giant robots in this one, though; here it's a giant hunk of space rock that's threatening to collide with the planet, leaving it up to Bruce Willis and his crack team of oil drillers (including Ben Affleck, Owen Wilson, Will Patton, Steve Buscemi and Michael Clarke Duncan) to hop on the next shuttle and blast the Texas-sized thing into a bunch of much less-threatening smaller chunks. It's the kind of life-or-death situation and seemingly insurmountable task that calls for at least one Aerosmith song on the soundtrack and a few tears from the lead singer's daughter as she prays for Affleck's safe return; luckily, the Ground Control to Willis' Major Tom is played by Billy Bob Thornton, a fella you'd definitely want to have your back if this kind of crazy shit actually happened. And to think, first contact with the asteroid was established by Eddie Griffin and his dog.
---
"The Core" (2003)
A bunch of disturbances in the Earth's electromagnetic field are making birds drop dead and random lightning storms wreck havoc; a geology professor (Aaron Eckhart) concludes it's because the planet's core has stopped turning, which launches a top-secret mission to drill into the center of the Earth and blow it to kingdom come, which will (in theory) jump-start its rotation. Stop your own brain's rotation for 135 minutes and "The Core" is actually a lot of fun, thanks mostly to an enthusiastic cast (including Hilary Swank, Delroy Lindo, Tcheky Karyo, Stanley Tucci and the skinny kid from "Road Trip") that seems totally game for any kind of preposterous sci-fi nonsense. It's really too bad about the birds — that little tourist kid is probably going to have nightmares about Trafalgar Square for the rest of his damn life.
---
"The Day After Tomorrow" (2004)
Al Gore finally gets to say "I told you so" before freezing to death in this environmental disaster flick. Some (okay, everyone) may have quibbled about the non-realism of the ultra-speedy climate apocalypse presented in "The Day After Tomorrow," but scenes of Mother Nature laying waste to some of the world's great cities are admittedly simply awesome to watch thanks to the film's cutting-edge special effects (the initial flood that takes out NYC is especially awe-inspiring). "Day" is also commendable for its rather somber and downbeat tone, a far cry from the rah-rah patriotism of Roland Emmerich's previous planet-in-jeopardy outing, "Independence Day"; after all, Jeff Goldblum's laptop — or anything else, for that matter — probably isn't going to be of much help in fighting extreme climate change. This is the middle — and definitely the darkest — installment in Emmerich's unofficial "Destroy the Earth" trilogy, between "ID4" and "2012."
---
"The Day the Earth Stood Still" (2008)
It isn't the threat of nuclear warfare but rather our own carelessness with the environment that prompts an alien race to threaten us with extermination in this tree-hugging update of the 1951 sci-fi film. Keanu Reeves is actually quite good as Klaatu, the extraterrestrial ambassador who comes to Earth with the imposing GORT, here a much more organic (and shape-shifting) menace than the clunky robot of the original; Jennifer Connelly works her two expressions (wide-eyed, vaguely erotic confusion and wide-eyed, vaguely erotic confusion) as the Princeton professor who tries to talk the handsome visitor out of pulling the trigger. Director Scott Derrickson's big-budget remake never quite comes together, but it's not without its apocalyptic pleasures, including a GORT (here an acronym for Genetically Organized Robotic Technology) who turns into a swarm of nanomachines that devours everything in its path — especially Giants Stadium.
---
"Deep Impact" (1998)
1998's much more serious and somber disaster movie chronicles the attempts to destroy a seven-mile-wide comet (discovered by a teenage amateur astronomer played by Elijah Wood) that's set to collide with the Earth and cause mass extinction; unfortunately, the nuclear bomb planted on the thing by the spacecraft "Messiah" (a join venture between the U.S. and Russia, notch) only succeeds in splitting it in two, which means there's now a pair of 3.5-mile-wide comets en route to kill us all. "Deep Impact" was released in May and received praise for its (relative) scientific credibility; however, "Armageddon" had Bruce Willis, Aerosmith on the soundtrack and a Fourth of July weekend release date, so it ultimately made more money. Directed by Mimi Leder, a protege of Steven Spielberg's; oddly enough, she's barely been heard from since.