"Y: The Last Man" in final negotiations for new screenwriters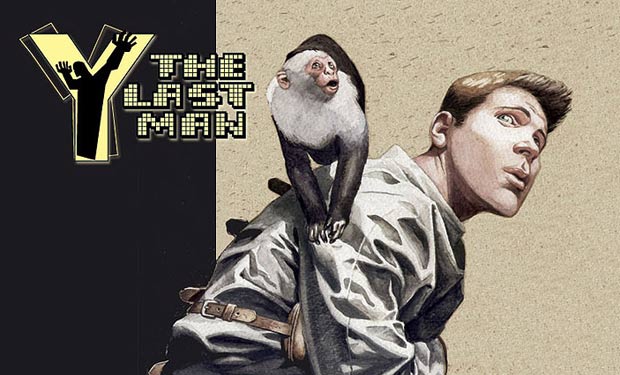 Posted by Aubrey Sitterson on
To television fans, Brian K. Vaughan is likely best known as a writer on "Lost," but for folks in the comic book know, Vaughan is revered as the writer of a number of critically acclaimed comic series, including "Runaways", "Ex Machina" and more. Of all his creations though, the one that continues to stand out as his masterpiece is "Y: The Last Man." Now, with New Line having approached two new writers, the film appears closer to reality than ever.
"Y: The Last Man" focuses on Yorick Brown, who along with his Capuchin monkey, are the last remaining males of any species on Earth. Over the comic's 60-issue run, Vaughan and his co-creator/penciler Pia Guerra, explored a chaotic world where men have ceased to exist, and the clock is ticking on the survival of the human species. The film version of the series has been in development for years, but according to the Hollywood Reporter, it finally seems to be moving forward with Matthew Federman and Stephen Scaia as writers.
Federman and Scaia recently signed on to pen the upcoming Zorro movie at Sony, but are mostly known for the television work. The two have written episodes of "Charlie's Angels," "Warehouse 13," "Jericho" and "Human Target," which was also based upon a Vertigo comic book series. Set to produce "Y: The Last Man" are J.C. Spink, Chris Bender and a man well-familiar with bringing comic book properties to screen, David Goyer.
If you're interested in Vaughan's comic book work, but maybe don't want to commit to the 10 graphic novels that comprise the "Y: The Last Man" series, you should absolutely check out "Saga," by Vaughan and artist Fiona Staples. Just released yesterday from Image, the series is a new ongoing, and if the first issue is any indication, will be the book we're all raving about for years to come. You can even buy the book digitally from Comixology.
Are you excited to see Yorick and Ameprsand come to the big screen? Tell us in the comments below or on Facebook or Twitter.