WonderCon 2012: Interview with "Snow White and the Huntsman" director Rupert Sanders and the action-packed new trailer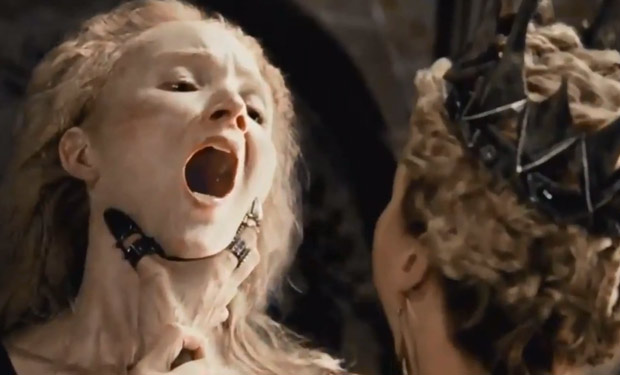 Posted by Terri Schwartz on
"Snow White and the Huntsman" marks a lot of "firsts" for the people involved in the film. It's the first feature film from esteemed commercials director Rupert Sanders. It's the first blockbuster movie after "Twilight" that Kristen Stewart has starred in. And it's the first time fans will get to see Snow White depicted as a warrior princess.
Following the movie's panel at WonderCon on Saturday, IFC participated in a roundtable interview with Sanders to talk about why he chose Kristen Stewart for the role of Snow White, some of the details surrounding the movie's plot and whether or not he is scared by Tarsem Singh's competing Snow White film. Read on for some of the highlights from the interview.
Kristen Stewart will change your opinion of her in "Snow White and the Huntsman"
"I think what I realized [is] she's such a good actor that everyone thinks she's Bella Swan. They believe that that's her. And obviously an actor is playing a role. She is nothing like Bella," Sanders said. "I was just amazed at her talent, really. She's incredibly good at her craft. She's incredibly instinctive, she's incredibly intuitive."
Even though he compares Stewart's real-life persona to her onscreen "Twilight" character Bella Swan, Sanders isn't really the expert on the subject. "I've never seen the 'Twilight,' so I didn't really care that much," he admitted. "I get her, I really got on with her, she's a great actor, she was right for the character, that's it. It was simple as that for me."
Just because you haven't seen Snow White much in the trailer doesn't mean she won't have a big role in the movie
"She's the lead. I wouldn't pretend to be a marketing expert, but the way it's positioned is we're starting to bring her in more and more. We don't want to give too much away. We just want to say, 'Here's the bad person, and there's someone who's trying to get to her,'" Sanders said. "We've only done teaser trailers as well. I think the more stuff people see, the more people will see of her and the more they'll be pretty blown away by what she did."
Charlize Theron's character will probably scare you
"When you're playing an evil queen, you can go into pantomime really quickly. I think what she did and what's indicative of the film we tried to make is that she grounded that in reality. She found a way of playing this character in a very modern and realistic and gritty way," he said. "She's playing it pretty straight as a very disturbed character who's desperately got to find this heart because she needs to live forever. It's as simple as that. She's someone who's dead on the inside but is determined that she will avenge her family and the tribe that she was with that was constantly brutalized by kings and by other kingdoms. She's determined that the world will feel the suffering that she felt and she will stop at nothing to do that."
Expect all of the characters to get a rich backstory
"All of them have very rich backstories. They've all suffered a great deal of loss. This queen took over a kingdom, she's someone who's suffered a lot of loss. She lost a family, she lost a tribe, she found her way into this kingdom, like a Trojan horse she moves from kingdom to kingdom hollowing them out, she's like a siren who attracts these people to her beauty," he said.
Sanders continued, "The dwarves lost everything, they were down in the mines. They're noble gold miners who see light in the darkness and that's why they were always the gold miners, and when they came up from the mines, the world was blackened and they lost all the other people in their race. The Huntsman lost a wife and Snow White lost a kingdom. She lost both her parents and she lost the love of the people, so everyone's dealing with loss in very different ways."