WonderCon 2012: "Prometheus" panel report and new trailer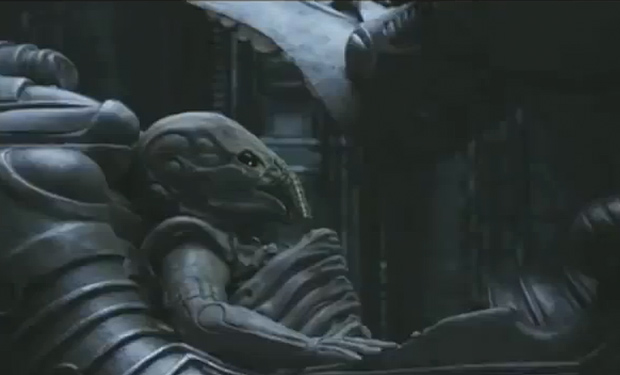 Posted by Terri Schwartz on
Without a doubt, the "Prometheus" panel was one of the most anticipated events at WonderCon this year. Ignore that one-minute-long leaked teaser that hit the web last night, because writer Damon Lindelof and director Ridley Scott debuted a brand new full-length trailer for the fans in attendance.
While there's still plenty of mystery surrounding the film, the trailer does set up the basic premise of the project. A group of explorers have discovered the same pictogram in the history of seven civilizations, and so they take it as a sign that there is some greater mystery to be resolved. Except what they take as an invitation is actually something much different, and they end up seemingly awakening a group of aliens staying in that other spacecraft we've often seen in "Prometheus's" promotional material and set off a chain of events that, if not stopped, will cause the end of Earth.
They could be misleading, but it did look like there were a few moments where there were some face-grabbing, stomach-exploding aliens in the trailer. And, of course, there is an obligatory shot of the Space Jockey, who now seems to definitively be in this film.
Stars Charlize Theron and Michael Fassbender then took to the stage to talk about their roles. Turns out that Fassbender plays an android named David in the film, something we hadn't known previously. And, though this is an ensemble film, Theron can be considered to be one of the most "main" characters. It's also worth noting that this was their first time seeing any footage.
"It's been a long time since I've done science fiction, which didn't mean I wasn't trying, but I couldn't come across anything that was of any interest to me," Scott said of his desire to make "Prometheus." "I thought there was a genesis of a very small idea that hasn't been examined … The story just started to evolve and take off into another universe."
Though "Prometheus" is set in the "Alien" universe, it's well known by now that it's not a direct prequel. Lindelof teased that there's enough room left at the end of the movie to — maybe — lend itself to creating more films in this series that might eventually tie in to the "Alien" franchise.
"If we're lucky, maybe there will be a second part to all of this, because the film really does leave you with some nice big open questions," Scott said. "I'll certainly do another science fiction film as soon as possible."
And, if you needed more of a nod that this is setting up the "Alien" universe, Fassbender's last line in the trailer is, "Big things have small beginnings."
"Prometheus" hits theaters on June 8. Check out the new trailer below.
Are you looking forward to "Prometheus" hitting theaters? Tell us in the comments section below or on Facebook and Twitter.