WonderCon 2012: Peter Berg and Brooklyn Decker talk aliens, Rihanna and the Battleship board game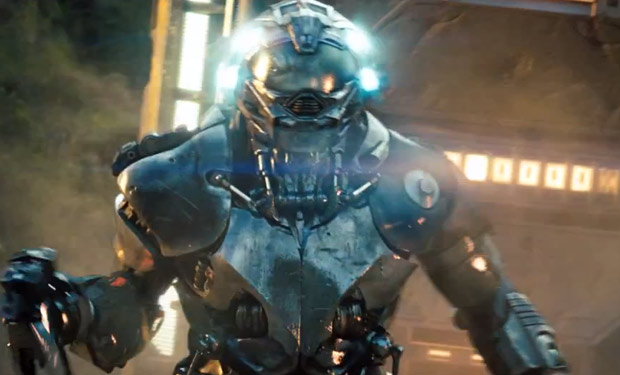 Posted by Terri Schwartz on
"Battleship" was one of the many films that sailed into WonderCon on Saturday to show off some of its nerd cred. Following the panel, IFC participated in a group interview with director Peter Berg and star Brooklyn Decker to talk about the project, which hits theaters May 18.
The conversation covered a range of topics, but one of the more interesting elements discussed was the role the aliens play in "Battleship." We also talked about Rihanna's first time on the big screen, the mini "Friday Night Lights" reunion going on in the film and the various nods within the movie to the Battleship board game.
In the middle of the interview, Berg and Decker even acted out of one of the movie's big ocean action scenes using the various voice recorders lying on the table. It is impossible to transcribe, unfortunately, but was wonderful to behold. Keep reading for some of the interesting talking points discussed during the interview.
There's a lot more to the invading aliens than meets the eye
"There's a lot that we're not giving away, but I don't like alien films where you don't get to see the aliens. We spent a lot of time and money, frankly, designing what I think are awesome aliens," Berg explained. "To us, the aliens are characters, they aren't just sort of generic killing machines. They behave. They clearly have feelings for each other. They rescue each other when one of them's in trouble. They didn't come here to fight."
And that's something that's really interesting about the film. The aliens aren't mindless bad guys, and the humans are actually the instigators.
"They don't act unless acted upon. Everything they do is reactionary and sort of in defense, and so they're not really out to attack us, they're more researching. They come down initially to find out more about our planet," she explained. "It definitely adds kind of an interesting dynamic. They're not just these mercenaries that come to our planet. There's a lot more to it."
Berg elaborated, "We actually kind of started the fight. So I think it was important for me, knowing there would be inherent skepticism or comparisons to other alien films, to kind of do our best to quickly get in front of that and say, 'Look, you may or may not respond to it, but I think you will judge it as something unique.' It's not like anything I've ever seen."
Just don't think we'll end up sympathizing with the aliens like we do in, say, "District 9." But it does apparently come close to that. "I think we push it right up to that edge, yeah," Berg said. "I don't know that you'll feel sorry for them, because they are quite violent. At the end of the day, they did come here to check this planet out. If it's of interest to them, they're going to do whatever they can to take it, and they're pretty fierce if they need to be. But we actually start the fight."
Don't worry, "Battleship" isn't sappy and romantic
"The film is not a love story, the film is an action film. These two characters [Taylor Kitsch and Decker] do love each other and very quickly in the film we introduce sort of an issue. And that issue is her father, played by Liam [Neeson], and they've had this agreement that on this day before Taylor sets out to engage in these naval exercises, he's going to man up and ask his permission to marry Brooklyn and Taylor's terrified of Liam and sort of self-sabotages it and ends up getting in a bunch of trouble and ends up not asking the question," Berg said. "So we separate them with a fairly substantial amount of conflict, and throughout the film Taylor's desire to get back and make it right is something that certainly a healthy component of the film. But we haven't remade 'The Vow' or 'The Notebook.'"