WonderCon 2012: Damon Lindelof, Ridley Scott and Michael Fassbender explain why "Prometheus" is not a prequel and more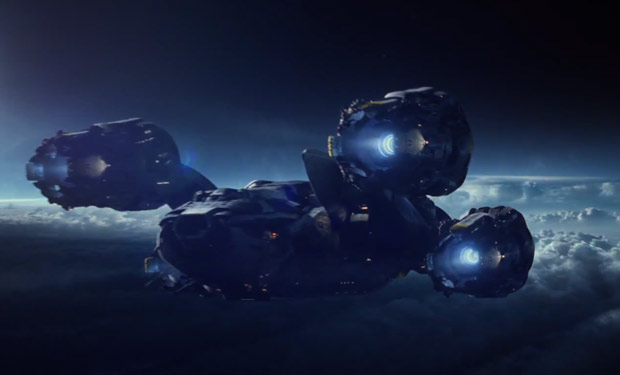 Posted by Terri Schwartz on
The June 8 premiere of "Prometheus" is without a doubt one of the most hyped and anticipated film releases of the year. The movie held a panel at WonderCon in Anaheim Saturday, and debuted a new trailer while director Ridley Scott, writer Damon Lindelof and stars Michael Fassbender and Charlize Theron set the record straight on some of the mystery surrounding the alleged "Alien" prequel.
IFC participated in a press conference with Lindelof, Scott and Fassbender following the panel to get the facts straight on the upcoming project. While a range of topics were discussed (which you can read below), the most interesting response of the event came after we asked Lindelof whether potential sequels to "Prometheus" would end up resulting in alien "Alien" or set the series on its own unique path.
"Prometheus" isn't a prequel because it doesn't end when "Alien" begins
"This word 'prequel' was on the table. It was the elephant in the room and had to be discussed," Lindelof said of the process of making "Prometheus." "If there were a sequel to this movie that we're working on — that eventually became 'Prometheus' — it would not be 'Alien.' Normally, that's the definition of a prequel is it precedes the other movies."
He added, "This movie, hopefully, will contextualize the original 'Alien' so that when you watch it again, maybe you know a little bit more, but you don't fuck around with that movie. It has to stand on its own. It's a classic. But if we're fortunate enough to do a sequel to 'Prometheus,' it will actually, I think, tangentalize even further away from the original 'Alien.'"
But have no fear, Ridley Scott fans, because Lindelof promised, "he's given us the movie that I think we all want to see."
There are a lot of complexities to Fassbender's android character
The biggest news out of the "Prometheus" panel is that Fassbender plays an android named David. Instead of being treated like an equal, David is "a butler," "a housekeeper," a "maintenance man" and "everything" servant-like for the humans aboard Prometheus, according to Scott. It's also worth noting that Fassbender is awake for the two and a half years that the rest of the ship's crew is in cryostatis, so he matures differently over that period of time.
"What does he do to amuse himself? And the idea that there was something of a little boy there, that he has to sort of rely on his imagination — imagination's a very human trait — in order to keep himself occupied. The fact that he's curious and how far will that curiosity go?" Fassbender teased. "He's sort of used and sort of abused. And so, how does that make him feel, if robots can feel? But you're always playing. You don't want to sort of make a direct definite choice, you're playing with the ambiguity that this robot's starting to develop human personality."
Scott added, "There's a great scene where [Logan Marshall-Green's character Charlie] Holloway, who is actually a bit of a bitch occasionally, says to him, 'Hey, you, boy, with me.' Like real cheeky. But then he says to you [Fassbender], 'Why are you wearing one of our suits? You don't need to breathe.' And it ends up with you saying, 'Not too close, I hope.' Referring to being, 'Ah, we're making you guys just like us.' The android retorts with a great sense of humor, 'Not too close, I hope.' You don't know whether who's insulting who there. So that's when his turnabout starts to occur."