Willow Shields and Nelson Ascienco talk future "Hunger Games" films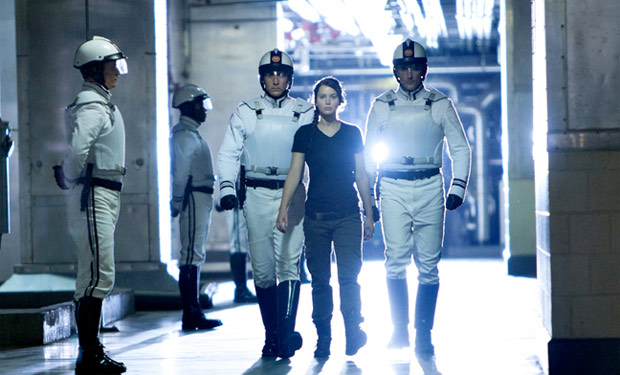 Posted by Terri Schwartz on
"The Hunger Games" may be only a day away from being released, but that hasn't stopped us from looking forward. The next film, "Catching Fire," is due to hit theaters on November 22, 2013, and the movie (or movies) after that will likely be released in the years afterward.
Some — but not all — of the characters in "The Hunger Games" will make it into the future installments of the series. IFC caught up with a couple of the stars who have roles in the upcoming movies and asked them what they thought of the chance to develop their characters more.
"It's very exciting. I'm just so excited that I'm going to be in the next roles and the next movies. It's so exciting," said Willow Shields, who plays Katniss's younger sister Prim.
Though Prim is portrayed as being somewhat weak and sheltered in "The Hunger Games," she shows great strength over the next two books. Shields said she is looking forwards to Prim becoming a bit stronger by the time "Mockingjay," the third book, rolls around.
"She's become very brave, and she's trying to follow Katniss, so she becomes Katniss and is taking care of her family and really trying to be brave through all of it," she said.
Nelson Ascienco, who plays Katniss's stylist Flavius in the film, also believes he can look forward to a couple more movies. "Story has it that I'll be in the other two/three films," he said cryptically.
For him, it was just exciting to get to work with the cast in this film. As Katniss's stylist, he had the opportunity to spend a lot of time with Lenny Kravitz.
"I'm pinching myself. It's just great to be with all those people. Lenny Kravitz was amazing," Ascienco said. "He's a rock star. People say, 'How is he?' He's a rock star, and just a sweet guy. And everyone on the crew was amazing. The crew, the costumers, the hair stylists and, it goes without saying, the cast. Amazing, stellar actors and just really humble, sweet people."
Which character's plot development are you most looking forward to watching? Tell us in the comments section below or on Facebook and Twitter.