Go behind the scenes of Will Ferrell's "Anchorman 2" announcement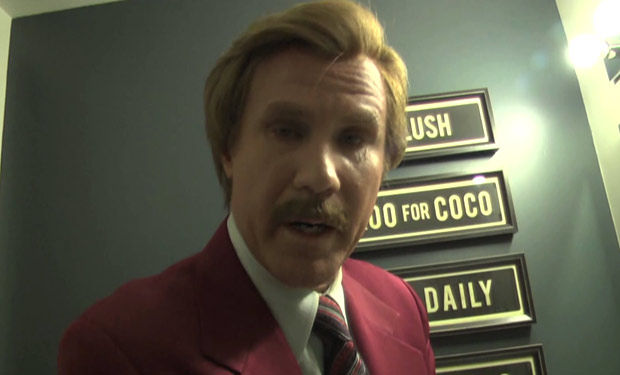 Posted by Terri Schwartz on
The world was rocked by Will Ferrell's announcement last night that an "Anchorman" sequel is officially in the works. That might be a bit of an exaggeration, but needless to say people were pretty thrilled.
Ferrell was quick to post a behind-the-scenes video of himself as Ron Burgundy from yesterday's taping of "Conan" to Funny or Die. You know what they say: 60 percent of the time, it works every time in helping to promote a movie.
It turns out that maybe Burgundy wasn't quite so sure that the deal would come together, but he went with his gut and made the announcement anyways.
"Here's the thing. I just was speaking off the top of my head. I don't know if we have the rights to my life story or not. We'll figure it out. We'll figure it out," he said after the show. "And anyway, get ready, it's coming. It's coming. The further chronicling of my life. And I hope you can handle it. It will be up close."
You've got a dirty, whorish mouth, Ron Burgundy. Fortunately, we know for sure that "Anchorman 2" is happening. Adam McKay tweeted confirmation of the news, Variety ran an official trade story confirming the return of Ferrell, McKay, Steve Carell, Paul Rudd and David Koechner, and there's even a Ron Burgundy Twitter account. His first tweet was very true to form.
"Hey America & Hawaii. Looks like Paramount & my lawyer Gene Tigerworthy have agreed to terms on a sequel to Anchorman. Whiskey sours on me!" he tweeted.
We won't have to wait that long for "Anchorman 2: Return to Pleasure Town" (or whatever it will eventually be called) to reach theaters. McKay said he and Ferrell are writing the script now, and filming is set to start in February with a release later in 2013.
Are you excited "Anchorman 2" is actually happening? Tell us in the comments section below or on Facebook and Twitter.