Opinion: Who cares if the Ninja Turtles are neither Teenage nor Mutant?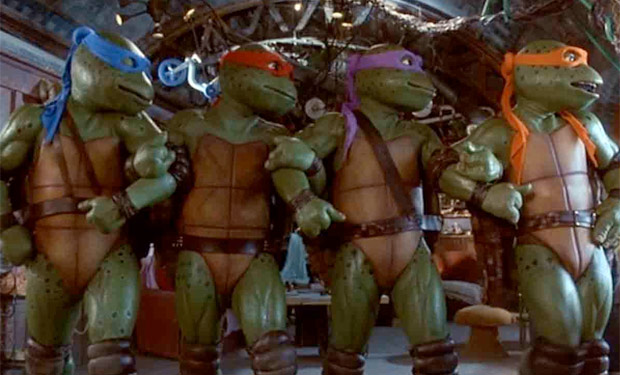 Posted by Aubrey Sitterson on
Ever since producer Michael Bay casually mentioned that the eponymous heroes of his new Teenage Mutant Ninja Turtles movie would be aliens, and not, you know, mutants, the internet has been abuzz with complaints and a resounding chorus of childhood-rape accusations from fans as well as folks involved with the franchise. Now, the latest word is that the film will jettison not only the whole mutant thing, but the teenager aspect of the characters as well, calling itself, appropriately, "Ninja Turtles." And unlike the rest of TMNT fandom, I'm completely fine with it.
This latest news comes via Bleeding Cool, which has verified that the title change is definitely happening, but has yet to pinpoint why, though their sources opine that it's likely a marketing decision. This news has thrown additional fuel on an already considerable furor over changes that Bay and director Jonathan Liebesman (Wrath of the Titans) may be making to the TMNT source material. Just last week, IFC's Rick Marshall spoke with Liebesman, who did his best to ameliorate the fan outcry, even pointing to the fact that TMNT co-creator Kevin Eastman is actually involved in the production.
The biggest complaint about these changes appears to be that it deviates from and somehow corrupts the core concept of the Teenage Mutant Ninja Turtles. This assumes that being Teenage and Mutant is a crucial part of why the characters resonated with audiences in the first place, and as a lifelong TMNT fan, I can attest that just isn't the case.
A little history lesson: the Teenage Mutant Ninja Turtles were co-created by Eastman and partner Peter Laird back in the halcyon days of 1984. The original comic book series was conceived as an elaborate parody of the hottest trends in mid-80s comic books. The series' most obvious target was Frank Miller's "Daredevil," exchanging Stick for Splinter, the Hand ninjas for the Foot ninjas and keeping the gritty, violent, dark world of Miller's New York City. But TMNT also parodied the popular DC book "The Teen Titans" (teenage), Marvel's "Uncanny X-Men" (mutants) and the growing market for black-and-white comics starring anthropomorphic characters (turtles). While the parody aspects of TMNT might have been crucial to its initial success, however, the vast majority of fans first experienced the characters in a very, very different manner: The cartoons, movies and toys.
The "Teenage Mutant Ninja Turtles" cartoons, movies and toys kept the basics of the characters' origins and identities, but the parodies and inside comics references were largely tossed aside – understandable given the material's much younger demographic. Speaking anecdotally, of course, but many people who grew up with TMNT, while they might be aware of the characters' comic book origins, don't realize that the whole thing was an elaborate, meta-joke about what was popular in 1984. That's because the TMNT cartoons and movies were far, far simpler, and concentrated less on parody and more on lovable, easily identifiable characters fighting an endless stream of ninjas, aliens and anthropomorphic henchmen while shouting absurdly 90s catchphrases. You know, stuff that's totally awesome and blows kids minds.
Putting aside the actual abilities of Bay and Liebesman, if the two want to lose the most confusing, least resonant aspects of the TMNT concept, I'm completely fine with it. TMNT wasn't a massive success because they were mutants or teenagers, but because they were Ninja Turtles, and as long as that stays in tact, I think the film has as fair a chance at success as any of the other numerous TMNT reboots – maybe even better. Additionally, I believe fan concern about the Turtles' more identifiable characteristics getting lost to be extremely premature. To take one very specific example, anyone thinks that not being teenagers would prevent the Ninja Turtles from enjoying pizza hasn't ever seen this full-grown man do work on a hot pie. Just because they are no longer teenagers doesn't mean Leonardo, Donatello, Raphael and Michelangelo can't be fun, funny, likeable characters.
I have no idea if the Bay/Liebesman "Ninja Turtles" flick will be any good. Judging from my feelings about Bay's "Transformers" franchise, I'm guessing it won't really be up my alley, but that has little to do with concept or anticipated changes to the original intellectual property, and much more to do with my affinity (or lack thereof) for Bay's work. Sure, as a comics guy, I appreciate and enjoy the in-jokes of the TMNT mythos, but I think they're far from essential when it comes to distilling down that still totally bodacious concept. Cowabunga, motherf*ckers.

What do you think about "Teenage Mutant Ninja Turtles" becoming just "Ninja Turtles"? Do you think it damages the entire concept, or is it a lot of fuss over nothing? Tell us in the comments below or on Facebook and Twitter.