Will Ferrell and cast explain their new Spanish-language comedy "Casa de mi Padre"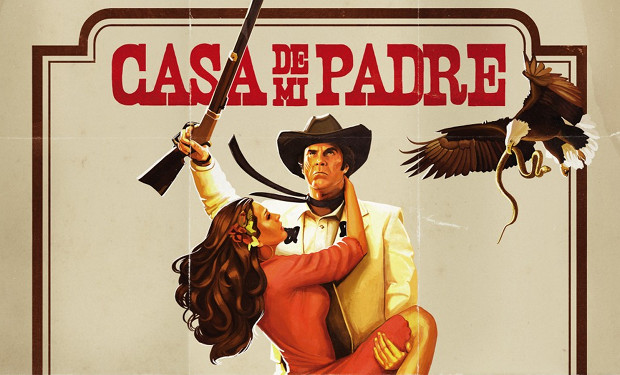 Posted by Rick Marshall on
It's probably no surprise that celebrated Mexican actor Gael Garcia Bernal was a little confused when he first saw the synopsis for "Casa de mi Padre," a Spanish-language movie filmed in America and starring Will Ferrell as a Mexican rancher named Armando Alvarez.
"There was something I didn't get at the beginning," recalled Bernal. "I thought there was some mistake."
Part homage to classic telenovela dramas and part parody of telenovelas and stylized spaghetti Westerns, "Casa de mi Padre" is a difficult film to lump into any specific category — and that's the way Ferrell likes it.
"I love the fact that it raises that question: Why?" he laughed.
"Casa de mi Padre" is the brainchild of Ferrell and a pair of his former "SNL" cohorts, writer Andrew Steele and director Matt Piedmont, who makes his feature-length directorial debut with the new comedy.
video player loading
.
.
.
"It's an idea I've had for the longest time," Ferrell told IFC. "I heard someone was writing a telenovela script at one of studios, and I thought I should try to get this thing together. We went around town and found NALA Films, and they immediately got the idea, and got the financing. . . . We thought, let's make this crazy little movie. If someone's going to give us the money to do it, let's do it."
Once the decision had been made to do the film in Spanish, that meant the script would need to be translated — bizarre dialogue, awkward pauses, and all. According to Bernal, whose resume includes a number of critically praised Spanish-language dramas like "Y Tu Mamá También" and "The Motorcycle Diaries," this was the initial cause of his confusion, as the Spanish dialogue in the script wasn't anything like other films he'd worked on in the past.
"They said it was going to be in Spanish, but the translation I read in Spanish was terrible," he laughed. "I didn't understand it. Then, talking with the director and the writer, I kind of got an idea of what they wanted to do. Then we just started to play around and build this character."
In the film, Bernal plays a powerful drug lord who has his sights set on the Alvarez family's ranch, as well as Armando's love interest, Sonia — a role played by yet another native Spanish-speaking actress, Genesis Rodriguez.
Asked what her initial reaction was to the description of the film and its star, Rodriguez said her first thought was simply "Epic."
A veteran of telenovela dramas, Rodriguez was no stranger to the intentional over-acting and style of storytelling that serves as the inspiration for "Casa de mi Padre."
"It's an homage," she said of the film. "It's definitely an homage to Latin cinema and telenovelas. And it's a beautiful mixture of both, so I think this is the biggest compliment they can pay to us. It was done and shot in the most tasteful way, and we know telenovelas better than anyone so we're allowed to laugh at it. It's our territory."
So, with "Casa de mi Padre" hitting theaters soon, the next question vlearly becomes: what genre will Will Ferrell take on next? Asked whether he has any other regional genres in mind — like a Japanese horror film or a Swedish crime drama, perhaps — Ferrell offered up another possibility.
"Swedish crime drama, that could be good," he laughed. "But I keep saying there are a billion Chinese people, so maybe I should learn Chinese. That could be a good market."
"Casa de mi Padre" hits theaters March 16. Chime in below or on Facebook or Twitter.