Warwick Davis talks leprechauns, Johnny Depp, and his desire to "just keep working"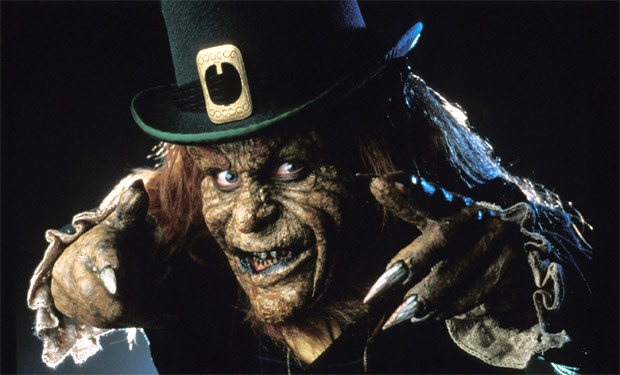 Posted by Scott Neumyer on
You might not recognize the name the moment you see it, but rest assured that you know Warwick Davis. You've seen him in some of your favorite films without even realizing you've seen him. The veteran actor has played Wicket the Ewok in "Star Wars: Episode VI – Return of the Jedi," Willow himself in the beloved film of the same name, Professor Filius Flitwick in the "Harry Potter" series and, the evil Leprechaun in all six of the "Leprechaun" films. On the eve of St. Patrick's Day (a Leprechaun's favorite holiday, of course) and the Video on Demand release of the cult classic "Leprechaun" movies, Davis was kind enough to sit down with us to chat about Johnny Depp, the little green guy he can't get enough of, and how "Life's Too Short."
IFC: You've done six "Leprechaun" films now. I'd say that's a pretty successful franchise. Do you have a personal favorite from the series?
Warwick Davis: I think number one's cool because it was the one that kind of started it all and at that point, you know, who knew we would go on to make six. It's amazing. I'm particularly fond of three and four. I like the comedy element in them as I'm fond of comedy anyway. I like the character in those. He's a horror character but that sense of fun that he has, those films really bring that out quite nicely. I'd say one, three, and four.
IFC: The films tend to swing back and forth between horror and comedy. Do you consider the series to be more horror or comedy based?
DAVIS: I always described them as horror-comedy, but it's very hard to say whether they're more horror or comedy. What's great about it is that there's that contrast you get then. The comedy scenes are actually funnier and the horror is probably more horrific because it's more unexpected in a way. If you just did a horror tone throughout an entire movie you almost, as an audience, can get a little bit used to it. But if you're laughing one minute and, you know, somebody's doing something quite horrific the next minute, it's a little more shocking.
IFC: The series definitely seems to lean a little heavier towards comedy in the last few films. They seem to be having a little more fun along with the audience. Do you feel like, as you grew into your character more and more, it became more fun for you as well?
DAVIS: When you do films that have multiple sequels, you develop a character for a film. It was ever so fun on the first one because it's really about finding this character from the script. I was given quite a free reign on what I wanted to bring to the character. Creating the voice and everything else. When you then get to do that again in the sequel, you feel more comfortable in that skin. You kind of know the character and then you're given this new script and this new arena to play in and it's just more fun then because the foundation is very solid within you from the character. You have your backstory from the previous film and then you go on to do a third and a fourth, it becomes so much more comfortable and so much easier. You then can explore the character further. It kind of happened to me in "Harry Potter" as well in a similar way. You end up knowing the character so well that it becomes such a lovely job to just roll onto the set.
IFC: So, are you ready for more fun? Is there going to be another "Leprechaun" film?
DAVIS: Listen, I'd love to do another one. This is probably – apart from "is there going to be a 'Willow 2'" – this is the next most popular question: "When are we going to see another Leprechaun film?" There's so many kinds of rumors and ideas flying around about what it could be.
I mean, I personally pitched "Leprechaun 7" to Johnny Depp. I said, "Look, obviously "Pirates of the Caribbean" has dried up a bit for you now. Why don't we reboot that and "Leprechaun" at the same time by combining the two franchises together so that you're sailing around on your boat and you've stolen my gold, perhaps, and I come along to try and get it back. And the movie rolls around this struggle between you and me." And he kind of looked at me a bit blankly. (Laughter). I think that'd be great, though, don't you?
IFC: Was this on the set of "Life's Too Short?"
DAVIS: Yeah, "Life's Too Short." And I did actually, sincerely that's exactly how it went. I pitched him exactly that. I think it's good. Obviously pirates love gold. Leprechauns love gold. It's a match made in heaven and it should happen.
IFC: At this point in your career, you've played an Ewok, a Goblin, a talking mouse, a leprechaun, a professor, and now a fictionalized version of yourself. What's left to do? What's next for you?
DAVIS: I've always managed to fulfill a lot of my dreams in acting. I've always wanted to do comedy and then "Life's Too Short" comes up, which is the ultimate kind of way to express that desire.
I just love working. I think it's something that people say oh, they want to be famous, they want to be an actor, and I always say, "Why do you want to do that?" They want the money. They want the fame. But that's not really the right reason to do it. You've got to love acting and that's true for me. I love the idea of getting on stage and getting in front of a camera. Whatever it's for.
So, I think I'd be grateful for the next job. I always am. And I always consider everything I do to be the last thing I do. I'm never disappointed and I'm always excited when the phone rings and someone else says "Would you come and have a go and do this for us? Play this character?" and what have you. I just want to keep working.
The original "Leprechaun" is now available in High Definition on Digital Download, Video On Demand and Pay-Per-View just in time for your St. Patrick's Day celebrations. The third and sixth installment in the series are also available.