Warwick Davis sees stalks bigger than he can comprehend in "Jack the Giant Killer"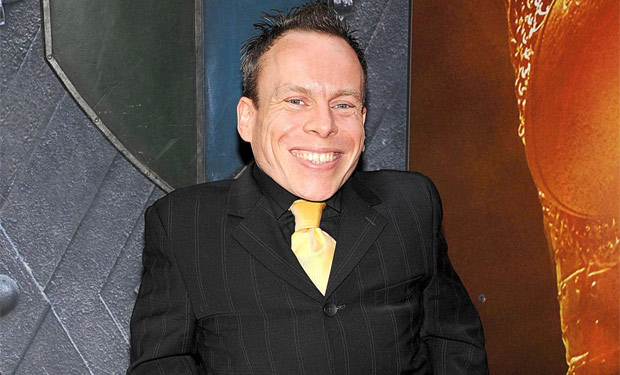 Posted by Scott Neumyer on
Veteran actor Warwick Davis ("Willow," "Leprechaun") may be small in stature at just three-foot-six-inches tall, but a year from now he'll be in theaters in a very big movie. Bryan Singer's modern re-telling of the "Jack and the Beanstalk" tale isn't set to hit theaters until 2013, but with a great trailer under its belt, the film already looms large on the horizon. While sitting down with Davis to chat about the Video on Demand release of his "Leprechaun" franchise, we had a moment to ask him about his role in "Jack the Giant Killer" and what it was like to work alongside Singer and some of Hollywood's biggest stars.
"I mean, it's a huge film," he said. "I was involved in with a whole sequence at the beginning of the film and I was actually asked to direct part of the beginning as well. The whole sort of theatrical sequence that happens."
Davis stars alongside Ewan McGregor, Stanley Tucci, Ian McShane, Nicholas Hoult, and Bill Nighy.
"It was really good," said Davis. "A lot of really creative people on the film and that cast. It looks set to become quite a cool film."
The shadows cast by his fellow actors, however, are nothing compared to the immense shadows cast by what Davis describes as absolutely enormous beanstalks.
"I just think the design of it. I mean, just the scale of the beanstalks. You can't even imagine. It's like 'Wow!' They really are even more than you would imagine them to be. If it's going to reach the sky you know they've got to be pretty big, but I don't think you ever quite comprehend them as being as massive as they are in this particular film."
We may have to wait another year to see it, but we're already counting up our magic beans in anticipation.
"Jack the Giant Killer" is slated to hit theaters in March 2013.
You can catch Warwick Davis in the original "Leprechaun" which is now available in High Definition on Digital Download, Video On Demand and Pay-Per-View just in time for your St. Patrick's Day celebrations.  The third and sixth installment in the series are also available in HD for the first time as well.