The top ten bar fights in movies (with video)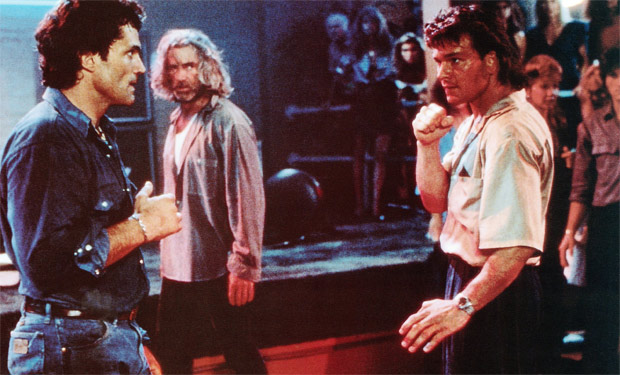 Posted by Bryan Enk on
"Inglourious Basterds" (2009)
The slow-burn tension of the basement bar sequence in Quentin Tarantino's "Inglourious Basterds" is almost unbearable, and when it finally explodes in a brief but furious shoot-out, it's like the spirit of the Wild West suddenly possessed WWII-era Germany. Think back on when you saw the amazing "Basterds" for the first time; you had no idea what was going to happen once one patron started questioning the particular accent of another (of all things), but you had a feeling it wasn't going to be good — and it ends up being really not good (though, in true Tarantino fashion, oddly humorous as well). This scene also features Michael Fassbender around the time when he was just about to become the MICHAEL FASSBENDER we know today, a guy who isn't afraid to show his schlong (whether Oscar gives a damn or not) — or take a bullet (or several) for the good fight against the Nazis.
---
"Knockaround Guys" (2002)
What damn fool would ever challenge freakin' Vin Diesel about anything? The damn fool in "Knockaround Guys" is played by Kevin Gage, who played another damn fool in Michael Mann's "Heat" (as a psycho-idiot member of Robert De Niro's gang o' thieves), so really it might be a good thing that Richard B. Riddick himself knocks some sense into him before he goes and does something really damn foolish. Really, if you have the balls/lunacy to actually spit on Vin Diesel's jeans, you deserve everything that's coming to you — and what's coming is a brief speech about what it takes to be a "legitimate tough guy" before commencing with a major face-pounding (Diesel gets to "act" before he acts, so to speak). Meanwhile, Seth Green hangs out in the corner being taunted by an animatronic cowboy: "Howdy, sidewinder — take your best shot!"
---
"Fight Club" (1999)
"There's a sign out front that says 'Lou's Tavern.' I'm fu**in' Lou." "Fight Club" is, of course, full of fights, and most of them take place underneath a dive bar known as Lou's Tavern. However, when Lou himself gets wind of what's going on in the basement of his fu**in' place, he makes a surprise appearance at one of the club meetings and tries to kick everyone out. Tyler Durden's taunts provoke Lou into punching the Club President in the face a few times, which only causes Tyler to become seemingly completely unhinged; he ends up pinning Lou to the floor and screaming in the bar owner's face, which is soon covered in Tyler's blood, spittle and God knows what else (you never know what "bonus liquids" you'll get in a David Fincher movie). Needless to say, Lou lets the crazy man and his friends keep their little basement clubhouse.
---
"The Replacements" (2000)
We love that the bar in this underrated football comedy about underrated football underdogs is called "The Endzone." Trouble starts brewing at this watering hole (is the bartender referred to as "the waterboy?") when a bunch of jerks show up and start taunting the deaf underdog; after a slow dolly in on his face, Keanu Reeves jumps to his teammate's defense, which leads to an epic football player fight complete with a rampaging Jon Favreau and a hard-kicking Rhys Ifans ("Let's play football, bitch!" — he's not called Nigel 'The Leg' Gruff for nothing). It ends with everyone in jail, where Reeves asks, "Can't we all just get along?" and, at Orlando Jones' urging, they all break into a rousing rendition of Gloria Gaynor's "I Will Survive," which is what was playing on the juke box at the top of the bar scene (even though Jones had selected a Commodores song). Football is awesome.
---
"Romeo Must Die" (2000)
It isn't top-billed Jet Li who participates in the bar fight of "Romeo Must Die" but rather the super-suave Russell Wong, who looks all sorts of cool and classy in his black suit and red shirt as he takes on opponents who also know martial arts; the resulting controlled chaos comes across more like dancing than brawling, but it's most certainly well-choreographed dancing featuring very good, er, dancers. For the record, saying "And don't come back, zipperhead!" is a surefire way to get a person to not leave a room and but rather to commence with the kicking, punching and bottle-breaking; the fun comes to an end via a DMX intervention, which features his truly awful "Guns don't kill people; PEOPLE kill PEOPLE" speech. DMX hates fun.
---
What are your favorite movie bar fights? Tell us in the comments below or on Facebook or Twitter.