The top ten bar fights in movies (with video)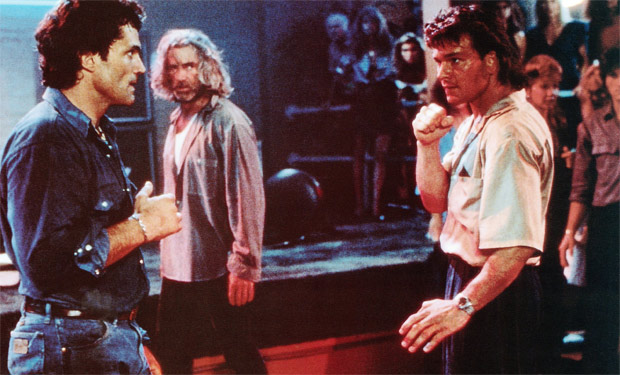 Posted by Bryan Enk on
Sometimes a situation can't be handled by anything other than what a young man named Alex once described as a "bit of the old ultra-violence." Grab a bottle and break it over the head of our list of great cinematic bar brawls.
---
"Mean Streets" (1973)
This early mini-classic from a young New Yorker by the name of Martin Scorsese (way, way pre-"Hugo") features what might be the best bar fight of all time. "Mean Streets" is about small-time hoods, not trained assassins or martial arts experts, so there's a raw, ragged clumsiness to their pool hall fight, as especially showcased in the extended (and rather amazing) steadicam shot that runs the perimeter of the entire room; these guys don't know "how" to fight, but they're fighting nonetheless. Robert De Niro has a terrific bit where he uses a pool cue as a club and takes on his attackers with a few swift kicks (that don't really hit home, but it's the thought that counts); the fight also ends as abruptly as it begins after the cops show up, with everyone calling a truce and having a drink — and then it almost starts back up again.
---
"Desperado" (1995)
Robert Rodriguez's rowdy sequel/remake to his stunning DIY debut, El Mariachi features the super-suave Antonio Banderas as, well, El Mariachi, a rogue musician with a guitar case full of guns hellbent on revenge against the bandito who shot his hand and killed his girl. Rodriguez's knack for energetic choreography and bait-and-switch editing is on full display here as Banderas makes short work of a tavern full of scumbags, including Cheech Marin, who would go on to become, like Banderas, a Rodriguez Regular (or is that "Regulator?"). We especially like the bit where the guy spins like a top due to the momentum of all the bullets hitting him in his pivot points — and, really, was there a cooler actor in 1995 than Antonio Banderas?
---
"Road House" (1989)
"Be nice…until it's time… to not be nice." "Road House" is the greatest movie ever made, so of course it's going to feature not one but multiple awesome bar fights. Patrick Swayze rules as James Dalton, a professional "cooler" who's also got a philosophy degree from NYU to fall back on if the whole bouncer thing doesn't work out; for now, he's off to tame the Double Deuce, a hellhole dive in a small Southern town ruled with an iron fist by the corrupt businessman (or something), Brad Wesley (Ben Gazzara, oozing smarmy evil). Sam Elliott plays the Obi-Wan to Swayze's Luke Skywalker, who's called in as reinforcement when the Deuce ends up being too big and bad a gig for just one man. "Pain don't hurt" is another bit of Dalton wisdom; "This movie's awesome" is one of ours.
---
"From Dusk Till Dawn" (1996)
More Robert Rodriguez, though Antonio Banderas sat this one out and George Clooney took center stage (and kicked ass) in his first major feature film role. The entire second act of this action-horror hybrid is one long extended bar fight featuring all sorts of bloody vampire mayhem, though one of our favorite moments is a brawl that almost breaks out. Sex Machine (Tom Savini) shows off some fancy mini-lasso work as he snags a dude's drink, a trick which the thirsty fella doesn't exactly appreciate; his unsheathed switchblade is countered with Sex Machine's fully erect (and, we're assuming, fully loaded) crotch-pistol, which convinces the would-be assailant to let one of the most celebrated special effects makeup artists in the industry just have his damn beer. Rodriguez completists will recognize this "codpiece gun" as a leftover prop from "Desperado."
---
"The Boondock Saints" (1999)
The Brothers MacManus (Norman Reedus and Sean Patrick Flanery) answer to a higher power in this cult vigilante thriller, and there's definitely a higher power at work in the bar fight; how else can you explain a guy being able to finish his insult to a giant Russian mobster (named Boris, notch) even though he gets punched in the face about halfway through telling him that his "pinko commie mother sucks so much dick, her face looks like an egg" (really, ADR department, what's up with that)? We guess it's only appropriate that the event in which the Brothers take the leap into becoming two-fisted (or, in this case, two-wine-bottled) ass-kickers for the Lord would have some supernatural elements to it; this free-for-all of Fightin' Irish versus Russkie thugs also features an old coot behind the bar shadowboxing with enthusiasm as mayhem explodes all over the joint. Red devils, go home!