Toby Jones calls "Snow White and the Huntsman" a "very dark" film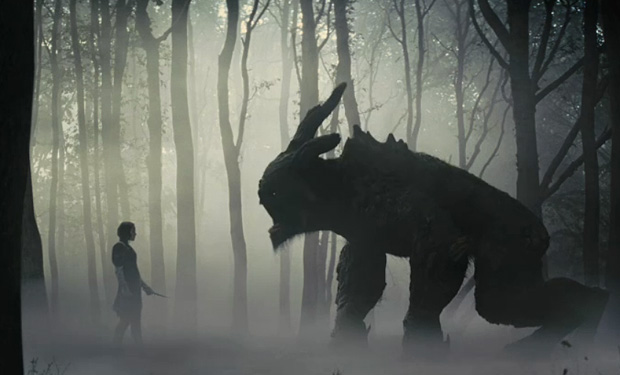 Posted by Terri Schwartz on
UPDATE: Now with new teaser for the film below.
This summer's film release slate may be filled to the brim with superheroes and aliens, but there's one fantasy movie that's caught our attention. "Snow White and the Huntsman," the big screen debut for commercial director Rupert Sanders, looks like it's going to be one of the best fantasy films we've had the please to watch in many years, and one of its stars agrees with us.
IFC caught up with actor Toby Jones at "The Hunger Games" premiere Monday night and asked him about his role in "Snow White and the Huntsman." He plays one of Snow White's eight dwarf companions named Coll, and, like his name, the dwarves will be unlike anything we've seen before in previous incarnations of the fairy tale.
"People say, 'Oh, which one are you, Sleepy?'" Jones said, laughing. "It's very dark, the film, and we're all kind of killers. So that was great fun. And the actors, the other dwarves, it was a great group of actors. It was really good fun."
Jones has quite an array of dwarven cast members. Rounding out the group of eight (one more than the traditional seven) are Ian McShane, Johnny Harris, Bob Hoskins, Eddie Marsan, Brendan Gleeson, Ray Winstone and Nick Frost.
Some have compared "Snow White and the Huntsman" to "The Lord of the Rings," but Jones said the comparison doesn't quite work. And it's hard to judge the end result of the film on anything more than the commercials Sanders has worked on, as he doesn't have any feature-length movies to his name.
"He hasn't really done anything before in terms of big movies like that," Jones said. "I suppose there's a quest element to it [like 'Lord of the Rings']. It's very hard to judge a movie before it's cut, but at the time it feels very, very dark and very unlike any other version of 'Snow White' I've ever seen, which is exciting."
For those who want even more "Snow White and the Huntsman," a full trailer will debut next Monday during "The Voice," but for now you can check out the new teaser released today.
Are you looking forward to "Snow White and the Huntsman like we are? Tell us in the comments section below or on Facebook and Twitter.