Ten reasons to watch "Napoleon Dynamite" on Sunday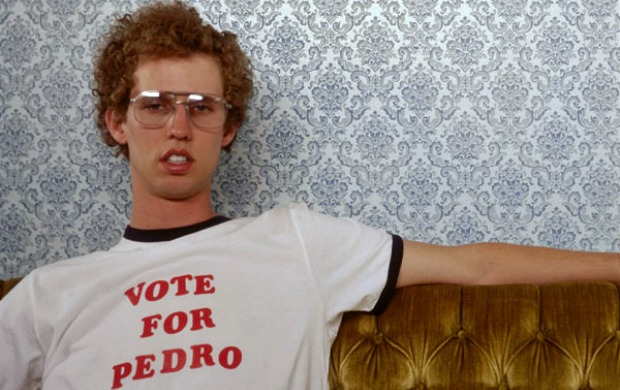 Posted by Melissa Locker on
As a faithful reader of this blog you undoubtedly know that we already gave you five really good reasons not leave your couch on Sunday. But, if you have a really good excuse like, if you win the Mega Millions jackpot and need to roll around in your money or if your wife insists you join her at the hospital for the birth of your child or something, and you have to miss some of the movies we're showing, you still have to make it back to watch "Napoleon Dynamite" at 8/7 c. Why? Because it is one of the funniest films of all time. Plus, we're pretty sure it is in the Constitution that you have to watch "Napoleon Dynamite" every time it is on television. Vote for Pedro!
Here's ten reasons to watch in the form of quotes from one of the best comedies ever:
1. "Just follow your heart. That's what I do." – Napoleon Dynamite
2. "You know… there's like a butt-load of gangs at this school. This one gang kept wanting me to join because I'm pretty good with a bo-staff." – Napoleon Dynamite
3. "Well, you have a sweet bike. And you're really good at hooking up with chicks. Plus you're like the only guy at school who has a mustache." – Napoleon Dynamite
4. "Pedro offers you his protection." – Pedro
5. "Napoleon, let go of me! I think you're bruising my neck meat!" – Kip
6. "I see you're drinking 1%. Is that 'cause you think you're fat? 'Cause you're not. You could be drinking whole if you wanted to." – Napoleon Dynamite
7. "How much you wanna make a bet I can throw a football over them mountains?… Yeah… Coach woulda put me in fourth quarter, we would've been state champions. No doubt. No doubt in my mind." -Uncle Rico
8. Grandma: How was school?
Napoleon: The worst day of my life, what do you think?
9. "Last week, Japanese scientists explaced… placed explosive detonators at the bottom of Lake Loch Ness to blow Nessie out of the water. Sir Curt Godfrey of the Nessie Alliance summoned the help of Scotland's local wizards to cast a protective spell over the lake and its residents, and all those who seek a peaceful existence with our underwater ally." – Napoleon Dynamite
10. "After one week with me in my dojo, you'll be prepared to defend yourself with the strength of a grizzly, the reflexes of a puma, and the wisdom of a man. So come down today for your free-trial lesson!" – Rex
"Napoleon Dynamite" airs on IFC on Sunday at 8/7c