Tim Grierson on the Teen Movie You Really Need to See (that isn't "Project X")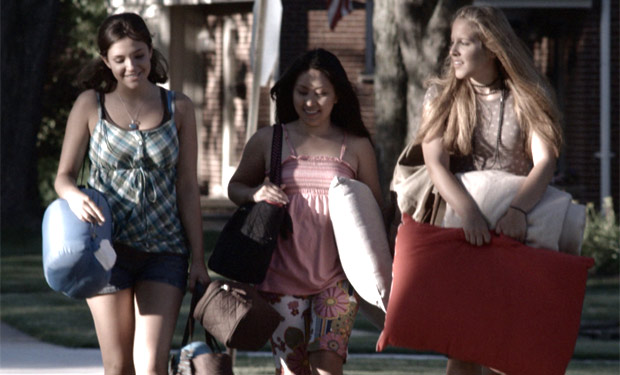 Posted by Tim Grierson on
Whether you loved or hated "Project X," the one thing everyone can agree on is that it's not like anybody's actual high school experience. That's sorta the point, of course: The movie's party-to-end-all-parties storyline is meant to be a giddy, unhinged exaggeration of every young man's fantasy of what it would be like to have the hottest girls at his place while his parents are out of town. But the film's wish-fulfillment plot eventually gets old when you realize there's not a soul in the movie who's remotely relatable. Nobody in real life is that cool or that nerdy as is depicted in "Project X," so while watching the movie I was trying to think of recent films in which teen life are portrayed realistically — or at least realistic to my own experience. As luck would have it, one just came out on DVD and is definitely worth a look.
It's called "The Myth of the American Sleepover," and if you haven't heard of it, fear not: It only made a whopping $41,000 in the theater. ("Project X" probably made more than that on midnight screenings alone.) "Myth" is a small indie that, like "Project X," doesn't star anyone you'd recognize and looks at a group of young people dealing with peer pressure and love over a short span of time. But unlike "Project X," the film gets so much of teen life right that, no matter how old you are, you may recognize yourself in one of its characters. That realization can be a little scary — like looking at awkward childhood pictures — but, hey, we've all gone through those growing pains.
"Myth," which was written and directed by first-timer David Robert Mitchell, came out in July, about a month after another teen period film, "Super 8" opened. What's interesting about "Myth," though, is that the time period is never nailed down. In the film, there are no cellphones, and characters use VCRs, but Mitchell said he wanted to keep specifics out of it. "By hinting at different time periods, or blending them, we can get at a different kind of truth," he explained last year. "I see the film as sort of its own myth. It's like an impression or a memory that we remember and maybe not even that accurately."
"Myth" feels like a memory, but one any of us can share in. Set in and around Detroit, the drama follows a group of teens as they enjoy their final weekend of summer freedom before having to go back to school. As with all teen movies, "Myth" has its character types, but they tend to be much more subtly drawn in this film than you normally see. There's the tough girl with the nose ring (Claire Sloma), and the shy virgin (Marlon Morton), and the college senior (Brett Jacobsen) going through a bad breakup. But having established these characters, Mitchell sends them on unexpected paths, often subverting our expectations of what we'd assume these types of characters would be like. Whereas the dudes in "Project X" don't really change from the first scene to the last, the young people in "Myth" act like the young people we remember from our own lives, still morphing and trying to figure out who they are and where they're going.
I don't want to set up "The Myth of the American Sleepover" as some sort of "antidote" to "Project X," but as raucous and edgy as "Project X" wants to be, it's not a movie that seems to understand a thing about how teenagers actually are. Sure, young guys really want to get laid — that was true in "Porky's" and "American Pie" and dozens of other teen comedies — but it's not the only thing they want, and it tends not to work out as easily as it seems to in "Project X." (Also, unlike "Project X," "Myth" actually seems interested in women beyond their physical features.) By following his characters as they gather for one-last-hurrah parties, Mitchell deemphasizes the titillating for a pretty honest examination of how uncomfortable hormones can be. Working with a largely inexperienced cast, the writer-director lets his characters' insecurities and naivety rule the day, although you wouldn't confuse "Myth" with one of those cringe-comedies where you wince more than laugh at the awkwardness on display. If "Project X" sells a fantasy of teen life, "The Myth of the American Sleepover" shows us who we were with an alarming, inspiring clarity. Put it this way: The film's most potentially salacious scenario — involving a guy and two gorgeous college twins — leads to the story's most poignant moment. The bros in "Project X" would not approve — but you might.