Miss Piggy shares her thoughts on "The Muppets," leading men, and her Oscar snub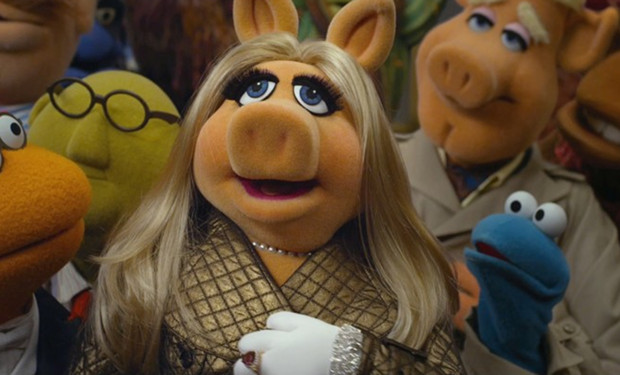 Posted by Rick Marshall on
It certainly is a good time to be a Muppet — or a Muppets fan, for that matter.
"The Muppets" took home an Oscar for "Best Song" at last month's Academy Awards, and now Kermit and the gang's latest adventure hits DVD and Blu-Ray this week. On top of all that, it's starting to seem like Miss Piggy, Fozzie the Bear, or the green guy himself are everywhere you look these days, with enough appearances on television, radio, and online media outlets to make it feel like it's the Muppets' world right now… and we're just living in it.
IFC managed to snag a few minutes with one of the stars of "The Muppets," Miss Piggy, whose celebrated career has made her one of Hollywood's true icons of cinema and television. In our brief interview, she offered up some thoughts on her return to the screen in "The Muppets," her advice for up-and-coming actors, and her desire to go solo in the next Muppet movie.
video player loading
.
.
.
IFC:
Miss Piggy, I don't normally do this, but let me start by saying that I'm honored to be talking with you right now…
MISS PIGGY: Of course. It is the greatest honor of your career… of your lifetime.
IFC: It is indeed. And congratulations on the Oscar the film received last month. That must have been very exciting for you.
MISS PIGGY: Thank you. Thank you. It would have made me a tad bit happier if it was the song that I sang from the movie.
IFC: Yes, that was a little disappointing. In fact, there were a lot of people saying you were snubbed in this year's awards…
MISS PIGGY: Yes, well it's not the first time. I'm snubbed every single year. I don't care if I haven't made a movie in 12 years, I still take offense to it.
IFC: Well, you did get to work with a great cast in "The Muppets," especially the up-and-coming actors like Jason Segel and Amy Adams. When it comes to working with actors like that, who don't have nearly as much experience in the industry as you do, what advice do you give them? After all, you're a veteran performer compared to them…
MISS PIGGY: Well, yes… You're not trying to say that I'm old, are you?
IFC: Not at all. I would never say that.
MISS PIGGY: Okay, good. Don't even think it, either.
But it's true, moi is very much an established icon in Holywood, and the tips that I would give up and comers like Amy Adams are very simple, straightforward things.
Always find your light, but never mine [and] always make sure the camera can see you, but never come between the camera and moi. This is very helpful for young actors starting out in the business, and it keeps them healthy, too — healthy and out of the hospital.
IFC: I read in an interview that you were holding on to the Oscar for safekeeping. Is that true?
MISS PIGGY: Um, is somebody looking for it? . . . You know, I don't actually have it on my mantle at the moment. I sent it out to get engraved.
IFC: Okay… well, let's talk about "The Muppets" a little more. Do you know anything about the deleted scenes that are included on the disc? Did you have any memorable scenes that didn't make it into the movie for some terrible reason?
MISS PIGGY: There were many fabulous scenes that moi was in that unfortunately did not make the final cut. Next movie, I get final cut. I'm just saying that now.
IFC: Noted.
MISS PIGGY: I don't know if any of these scenes made it onto the DVD as bonus features, but yes, there were some fabulous scenes. There was quite a bit taken out of the scene where Kermit and moi were strolling. There was the whole flashback sequence. [Flashbacks] are a very new filmic device where you go into somebody's head and you relive their memories. It's very interesting. I don't think anybody has done it before, and in fact we didn't do it in the movie because it got cut.
IFC: You've shared the stage with so many famous leading men. If Kermit wasn't available, is there another actor out there who you'd like to do a few films with?
MISS PIGGY: Well, I think Brad Pitt and I would make a great leading man and leading lady. Have you heard of him? Is his star quotient going down? Is it not on the rise anymore? Is there somebody else that I should be looking to do a movie with?
IFC: Well, I'm not sure — I mean, anyone who did a movie with you would have to be content to be in your shadow…
MISS PIGGY: That's true. But I really am happy continuing to do movies with my Kermit.
IFC: How about a solo movie? Have you thought about going off and doing a Miss Piggy movie?
MISS PIGGY: Hmm. Well, I really would like for the next Muppet movie to not have any of the other Muppets in it. I think that would be a very entertaining movie, and I would get a lot more screen time — and it would make me and all of my fans very happy.
IFC: You've played so many different roles over the years — everything from a pirate to a plucky reporter. Is there a character you'd still like to play? Anything you haven't done yet that might be interesting?
MISS PIGGY: Hmm… [Pause]… I've never played a groundhog. I'm pretty sure of that.
IFC: Well, my last question for you is a little off-beat, but it's something I — and a few other people I know — have always wanted to know the answer to. It's clear to anyone who's seen your movies or television appearances that you've mastered a unique form of martial arts. What can you tell us about the fighting style you use in front of the camera?
MISS PIGGY: Well, it's a combination of karate, judo, kick-boxing and something I made up.
IFC: Have you ever thought of teaching it to anyone else? I'm sure you'd have lots of willing students…
MISS PIGGY: I would, but it's really something I only use as self defense… and when people insult me… or when I want to get my way.
IFC: Thank you so much for talking with me, Miss Piggy.
MISS PIGGY: And thank you!
"The Muppets" is available on DVD and Blu-Ray now. Chime in below or on Facebook or Twitter.