First pic from "The Lone Ranger" shows Johnny Depp and Armie Hammer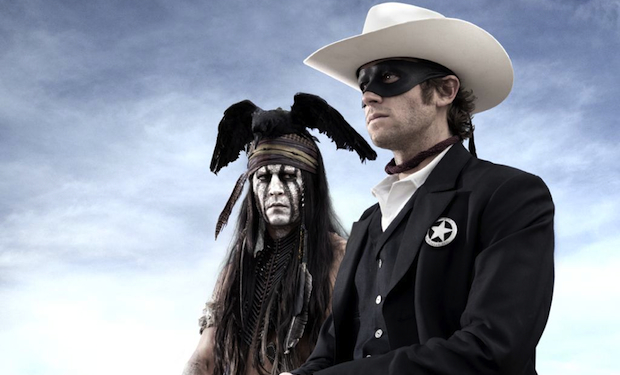 Posted by Terri Schwartz on
Oh yeah, that's why we were excited about "The Lone Ranger" to begin with. Even though the Gore Verbinski film has suffered just about every pitfall and delay a project can possibly have, Disney's remake of "The Lone Ranger" has geared back into action with Johnny Depp and Armie Hammer as lead characters Tonto and the titular Lone Ranger. Producer Jerry Bruckheimer has tweeted the first image from the film, and the duo look awesome in costume.
From what we know about the movie so far, the focus has shifted from the Lone Ranger to his Native American sidekick. /Film describes it has telling "Don Quixote" from Sancho Panza's point of view, another concept that sounds awesome to us. The positioning of this picture is interesting, with Depp's Tonto in taking center stage but still standing behind Hammer's Ranger. Also, judging by the look on his face, Tonto doesn't look to pleased with his former Texas Ranger partner.
"The Lone Ranger" is due in theaters on May 13, 2013, so we can expect plenty more promotional material over the next year. In addition to Depp and Hammer, the film also stars Tom Wilkinson, William Fichtner, Barry Pepper, James Badge Dale, Ruth Wilson and Helena Bonham Carter.
What do you think of the first "Lone Ranger" image? Tell us in the comments section below or on Facebook and Twitter.