Shelf Life: "The Last Temptation of Christ"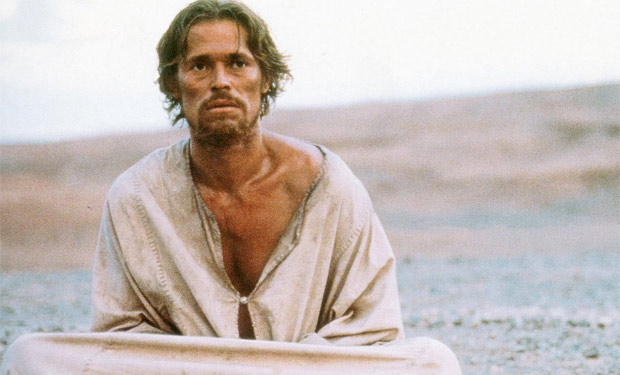 Posted by Brian Jacks on
Religion is something I no longer give much consideration to, but the idea of faith, and spirituality, is something still find to be profound, important, and for those who possess either (or both), valuable. That may seem contradictory, but the point is that devotion to some greater force or power, assuming that commitment is in the service of positivity, empowerment and hope, is something to be supported and celebrated, whether or not it's something you believe in. And it's precisely because of this odd juxtaposition of faith, hope and responsibility that I'm able to find films like Robert Duvall's "The Apostle" so profound and moving.
Within the last few weeks, the wonderful people at Criterion released a Blu-ray for Martin Scorsese's "The Last Temptation of Christ," not only one of the most unique religious films ever made, but certainly one of the most controversial. There are still countries in which it is banned, and there are still people who consider it to be nothing less than absolute blasphemy. But how do people consider it as a work of art? Moreover, is it possible to do so? Concurrent with Criterion's stellar new release, this week's "Shelf Life" looks at the film to see what resonance it has today – as an entry in Scorsese's filmography, an examination of faith, and just as a piece of cinema.
---
The Facts
Released on August 12, 1988, "The Last Temptation of Christ" only came to the screen after some major shake-ups in its casting, and significant problems during its production. Scorsese first decided to undertake the project in 1983, but protests from religious groups led its then-distributor, Paramount Pictures, to bail out. In 1986, Universal Pictures picked it up, and after several roles were recast (Willem Dafoe took the place of Aidan Quinn, David Bowie replaced Sting, etc.) Scorsese was finally able to make the film, albeit with a budget of $7 million, which was literally half of what Paramount originally offered.
The film went on to earn $8.4 million during its theatrical run, and Scorsese netted a Best Director nomination for his work behind the camera. As Mary Magdalene, Barbara Hershey received a Best Supporting Actress nomination at the Golden Globes, and Peter Gabriel earned a Best Original Score nomination for his work on the soundtrack. The film also maintains an 83-percent fresh rating on Rotten Tomatoes.
---
What Still Works
What works about "Last Temptation" is what was meant to – an in-depth, humanistic portrait of what religious devotion means, as filtered through a fictionalized version of the life of Jesus of Nazareth. The film very specifically announces that its story does not come from the gospels, which should have alleviated critics' concerns that it portrayed Jesus in a way that was unflattering or contrary to the way he was depicted (or I suppose his behavior was documented) in the Bible. All this really means is that the film gets underneath Jesus as a legendary religious figure who sacrificed himself for humankind's sins, and show that he had the same hopes, desires and vulnerabilities that the rest of humankind does. (Although more importantly, who cares? If you know who the person is that you worship, who he or she is and what he or she stands for, then it's irrelevant what a film or any other art form says about them.)
Narratively speaking, what the film does so wonderfully is it shows the mortal side of a man who recognizes – even if he resists – the calling of a higher power. He wants to toil in obscurity and live a normal life without incident, but the calling he receives – which admittedly could be perceived as mental illness – is something he cannot deny, and which is only exorcised when he speaks on behalf of God. The way the film portrays his sermons is utterly believable: although he speaks in recognizable parables, they don't come out as pure, effortless poetry, but endure a birthing process that arrives at a greater truth rather than simply starting out there. And even when he speaks, he's not entirely sure what he's saying is right, and changes directions in his crusade several times until he realizes exactly what he has to do. There's a remarkable humanity to his doubts and insecurities, his rage and self-acknowledgement of his other shortcomings, and it actually gives his transformation that much more power.
Cinematically, Scorsese had to make the film on a tight budget, but one never feels it. Although there are no traditional "ancient locations" as a backdrop for Jesus' story, no colonnades or Roman ruins for him and his disciples to walk through, he creates a palpable sense of time and place, even if specific locations are treated more impressionistically than geographically. Dafoe's performance as Jesus is revelatory: he seems so possessed of the character's dimensions – his strengths and weaknesses – that it's impossible to imagine anyone else in the role. And Peter Gabriel's score rightfully introduced the entire world to the "world music" genre; his score is so captivating and evocative that it's inextricably linked to the imagery on screen as both a seemingly accurate musical backdrop for the time and place, but also an undercurrent of almost primal feeling that embodies and articulates the feelings that are welling up in the characters.
---
What Doesn't Work
It's really subjective whether or not this works for you, but it's completely understandable if Scorsese's decision to allow his actors to use contemporary regional accents turns some viewers off. Keitel's Brooklyn swagger is absolutely un-ignorable, but the other actors retain their very recognizable accents and Dafoe's uninflected, contemporary delivery seems conspicuously at odds with what one expects from a period film, much less one that purports to be reverential about the life of Jesus Christ. Mind you, I don't think it doesn't work, but I understand how some might not like that choice.
Otherwise Jesus' seeming direction changes through the film seem to make his journey slightly scattershot and unpredictable, but that also feeds directly into the idea that Jesus was allowing himself to be open and susceptible to the word of God, and therefore following whatever instruction or inspiration he received.
---
The Verdict
"The Last Temptation of Christ" is a beautiful film – a really powerful depiction of one man's struggle with his faith in God. Even if you're not a Christian or religious at all, there's much to appreciate in its portrayal of a character who desperately wants to believe in something greater than himself, but finds himself challenged by what that faith requires him to do. Not only does it hold up, but it's a film that everyone should see, not to refute the decades of controversy or simply celebrate its artistic merits, but because it both challenges and reassures notions of faith and devotion that, if one looks at it with the right eyes, apply to everyone, regardless of their religious disposition.
Leave your own impressions of "The Last Temptation of Christ" in the comments below, or on Facebook or Twitter.