"The Hunger Games" TV spot highlights District 12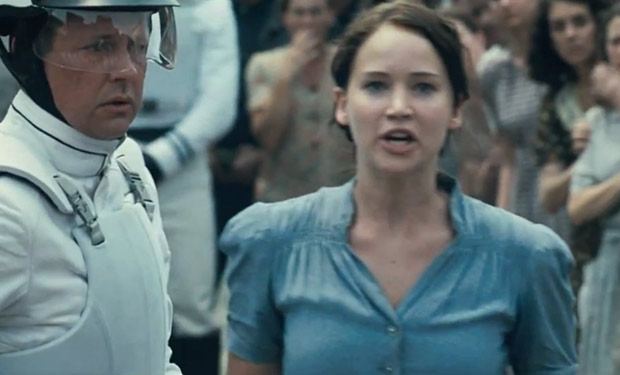 Posted by Terri Schwartz on
Only 22 days left to go until "The Hunger Games" officially begin. Lionsgate has released a new minute-long TV spot that continues the studio's trend of highlighting the pre-Games portion of the movie. There's plenty of new footage in the spot, but it comes from main character Katniss's time in District 12 instead of after the Reaping.
Chief among the new footage is a significant flashback between Katniss (Jennifer Lawrence) and Peeta (Josh Hutcherson). In it, Peeta can be seen throwing bread to his family's pigs in the rain. The shot cuts to Katniss, cold and starving and sitting outside by a tree. She and Peeta share a glance, and the scene ends. But as fans of the book know, that moment is much more significant than it might seem in the TV spot.
The teaser features a lot of footage showing life in District 12, and the constant Capitol presence there. We get to see Katniss's mother for the first time, and also get a great look at President Snow during the Reaping. And what about that final shot of Katniss headed to the Capitol? Talk about chilling.
It's also worth noting that the title track off "The Hunger Games" soundtrack, Taylor Swift's "Safe and Sound," is the song that's playing in the background of the TV spot. While it doesn't totally match the foreboding tone of teaser, it still is a great fit with the overall content and we're excited to see how (and if) it plays into the actual film.
"The Hunger Games" tells the story of Katniss Everdeen, a 16-year-old girl from the poor District 12 section of the futuristic country Panem who volunteers herself into the annual Hunger Games to take the place of her sister. In the Hunger Games, she must fight to the death against 23 of her peers on national television to win fame and fortune to her District. But Katniss only thinks about her survival and returning to her family, and that's what gives her the edge. "The Hunger Games" hits theaters on March 23, 2012.
What did you think of the new TV spot? Tell us in the comments section below or on Facebook and Twitter.