"The Hunger Games" stars share their excitement for the film at the premiere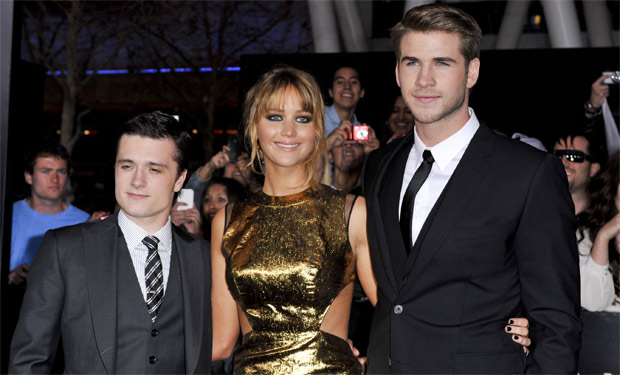 Posted by Terri Schwartz on
It's hard to tell who is more excited for "The Hunger Games" to come out: the fans or the film's stars. The release is only days away, but it feels like we have been waiting years for Suzanne Collins' beloved book to finally hit the big screen.
IFC was at the film's black and gold carpet premiere and caught up with a bunch of the movie's stars. Needless to say, they were all pretty thrilled and taken aback by how hyped the carpet experience was.
"When they flew me in a couple days ago, I wasn't expecting it to be such a massive [event]," said Toby Jones, who plays Hunger Games announcer Claudius Templesmith. "It's insane."
Nelson Ascienco, who plays Katniss's stylist Flavius in the film, said he still couldn't believe how wonderful the whole experience making the film was.
"I'm pinching myself. It's just great to be with all those people," he said. "Everyone on the crew was amazing. The crew, the costumers, the hair stylists and, it goes without saying, the cast. Amazing, stellar actors and just really humble, sweet people."
Though not all of the cast members survive "The Hunger Games," those that do can look forward to plenty more time spent bonding with their costars in future films. Willow Shields, who plays Katniss's younger sister Prim, said she and Jennifer Lawrence became close while shooting their scenes.
"We were just sisters on set," she said. "It was just so much fun."
For Jones, taking the role of Claudius Templesmith was an easy "yes." "[Director] Gary [Ross] offered me the job and then he sent me the book and I read the book very quickly, it's a very easy book to read," the "Tinker Tailor Soldier Spy" star said. "Then my kids read it and they were just kind of blown away by it.
Jacqueline Emerson, who plays the clever District 5 tribute Foxface, said that she was always intrigued by the way the children forced to fight in the Hunger Games maintained their humanity throughout it. With the exception of the few Careers who were trained their whole lives to fight in the Hunger Games, the tributes often just try to survive until the end of the competition instead of going on the offensive to kill as many of their opponents as possible.
"I think it's all about how they maintain their humanity in a world where there isn't a lot. There's a lot of desensitization. But I think once you're in the Games and you realize you actually have to take another human life … it sticks with you," she said. "I mean, despite the fact that society kind of brings them up in this world where it's okay, there are some characters in it who are able to maintain the fact that it's not and stay true to their heart.
The male District 11 tribute Thresh is a good example of what Emerson was talking about. He manages to stay hidden for a large portion of the Games, only emerging towards the end of them to make a pivotal decision.
"Thresh's strategy in the Hunger Games is not to seek out blood, you know? He's not an evil character. He just wants to survive. He doesn't want to have anything to do with the Games," said Dayo Okeniyi, who plays Thresh in the film. "He's forced into conflicts. He doesn't go into it, and I think that he's a character that has a very pivotal moment where he has to make a decision, and I think that decision really defines the character."
So just what was Thresh up to all that time he was absent? "He's just making some barbeque," Okeniyi joked. "He's got a pig on a spit."
Directed by Gary Ross, "The Hunger Games" also stars Jennifer Lawrence, Liam Hemsworth, Josh Hutcherson, Woody Harrelson, Elizabeth Banks, Stanley Tucci and Donald Sutherland. It hits theaters on March 23.
Are you as excited to see "The Hunger Games" as the stars are? Tell us in the comments section below or on Facebook and Twitter.