"The Hunger Games" director Gary Ross and cast talk three vs. four movies debate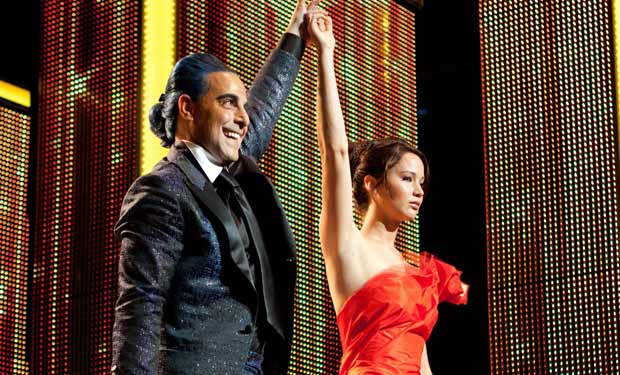 Posted by Terri Schwartz on
Sure, "The Hunger Games" hasn't even come out yet, but the big question on most fans' minds is whether Lionsgate will end up splitting the series into three or four films. There are only three books in Suzanne Collins' story, but Lionsgate did leave the option open to make the franchise into four movies, much like studios did with the final films in "Harry Potter" and "The Twilight Saga."
On "The Hunger Games" red carpet, IFC caught up with director Gary Ross, who is directing "Catching Fire" and likely the final one or two installments, and asked what his take on the debate was. Unsurprisingly, he had a very politically correct answer.
"That's a larger conversation that involves more people than me," he said with a laugh.
But that still leaves room for speculation. Willow Shields, who plays Prim in the movie, said that she would like to see more movies just so the story doesn't have to be trimmed unnecessarily.
"I think four because then the last book you can split it up, and there's so much in the last book, I think it would be so awesome to be able to do all of that," she said.
But even she doesn't know where the split should take place. When asked if she could think of an event that would end the third film, Shields answered, "I don't think so. I can't… I'm trying to think. I have no idea. That's a really hard question."
That's the problem we're all having when trying to picture three movies instead of four. Nelson Ascienco, who plays Katniss's stylist Flavius in "The Hunger Games," says he expects the split to likely take place during the third book.
"I would say probably towards the third book, just because it's so involved and it's finally you're in the Capitol and you're dealing with all that," he said. "So, I mean, if you've read the book you know how involved it is and how spectacular the effects are going to have to be, so it's a feast for the eyes. I have no idea how they're going to get it all there, but you know what, Gary Ross is an amazing director."
And, like Shields, he would happily see more than two more films to complete the movie franchise.
"It's such a great story and such a long story in the sense that it's so involved and detailed, I don't know how they would get all that information in two or three films. So maybe it will be more!" he said.
Are you looking forward to "The Hunger Games"? Do you think the film series should be three or four movies long? Tell us in the comments section below or on Facebook and Twitter.