"The Hunger Games" new clip shows Jennifer Lawrence in action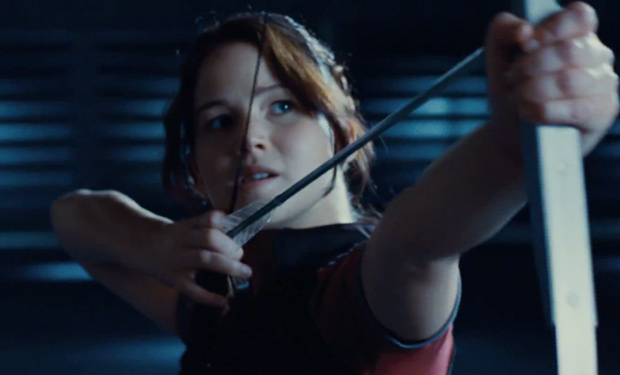 Posted by Terri Schwartz on
Thank goodness there are only 21 days until "The Hunger Games," because the newest official clip from the movie has totally got us ready to see the film in it's entirety. This is the first time that fans will get a sense to see how the movie will actually look without all the quick editing from the previously released trailers, and it seems like director Gary Ross has done a great job with the source material.
The scene is actually one of the most pivotal moments in the entire film. Katniss is showing the Game Makers her skills so they can rank her abilities before the Hunger Games begin, but they are more interested in a roasted pig than they are in the fact that she just shot a perfect bulls-eye at the target. Our leading lady becomes angered by this and takes aim at the Game Makers, only to shoot the apple right out of the pig's mouth. Seneca Crane does not look too pleased.
And, actually, Seneca Crane is the reason we're so excited about this scene. The shot of Wes Bentley looking over his shoulder in a mix of terror and shock is one fans should be familiar with as it's been in just about every major trailer, but it's one we've never had the chance to see in context. It's nice to see how the adult actors' scenes will play out, especially since they'll be taking the backburner in most scenes to leading lady and men Jennifer Lawrence, Josh Hutcherson and Liam Hemsworth.
"The Hunger Games" tells the story of Katniss Everdeen, a 16-year-old girl from the poor District 12 section of the futuristic country Panem who volunteers herself into the annual Hunger Games to take the place of her sister. In the Hunger Games, she must fight to the death against 23 of her peers on national television to win fame and fortune to her District. But Katniss only thinks about her survival and returning to her family, and that's what gives her the edge. "The Hunger Games" hits theaters on March 23, 2012.
What did you think of "The Hunger Games" clip? Tell us in the comments section below or on Facebook and Twitter.