Tim Grierson on "The Hunger Games" and the rise of Hollywood's next generation of stars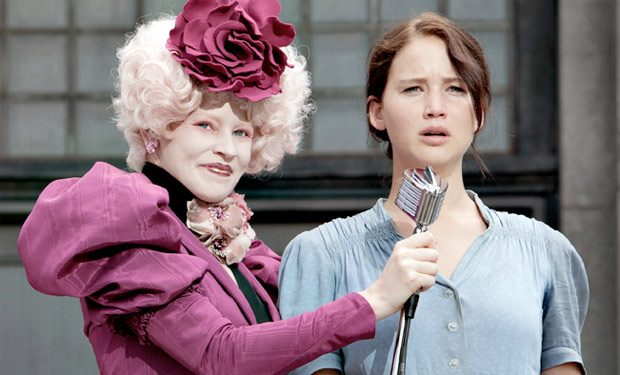 Posted by Tim Grierson on
What were you doing when you were 11? Probably dealing with grade school and possibly still playing with toys. What you probably weren't doing, though, was being cast as the lead in a movie that a Hollywood studio was hoping would gross about a billion dollars. That's a lot of pressure for a kid, but that's what happened to Daniel Radcliffe when Warner Bros. picked him as their Harry Potter. Eight movies and $7.8 billion later, it's very easy to overlook how incredibly risky that casting choice was: If Radcliffe hadn't possessed the chops, a cash cow may never have materialized.
It's funny to think how studios spend so much on their potential franchises — especially on effects and marketing — and even though these movies need good writers, directors, and technicians, in the end a lot of their success hinges on relatively new faces who have never really experienced the media attention this new role will bring them.
Jennifer Lawrence is the latest to face this challenge. Little-known before her breakout two years ago in the acclaimed indie "Winter's Bone," Lawrence has seen her profile rise considerably thanks to her subsequent role as Mystique in "X-Men: First Class." But she was just one of many names in that "X-Men" prequel; for this weekend's "The Hunger Games," she's the main attraction as Katniss Everdeen, the tough, beloved hero of Suzanne Collins' insanely popular books. In comparison to Radcliffe, Lawrence is a seasoned pro — she's been acting for seven years, and she'll be 22 in August — but still Lionsgate is gambling that the world will envision this fresh-faced starlet as Katniss. If audiences don't, that could seriously derail hopes of sequels and all the many millions of dollars they could generate.
But Lawrence isn't the only actor whose rising stardom has dovetailed with her attachment to a major studio franchise. The same year that filmgoers were introduced to Lawrence in "Winter's Bone," they also discovered Andrew Garfield, who was in "Never Let Me Go" and "The Social Network." (A few years earlier, he'd been dynamic in the little-seen British drama "Boy A," playing a young man recently released from prison after a murder conviction.) But can this superb 28-year-old actor become a believable Peter Parker in this summer's "The Amazing Spider-Man"? Sony had better hope so: He was their pick to star in the comic book reboot that the studio is betting will make people forget all about Tobey Maguire — even though it's only been five years since Maguire appeared in "Spider-Man 3." Garfield has proved his ability to play dark, complex characters in sophisticated dramas, but "The Amazing Spider-Man" (despite its brooding trailers to the contrary) is a big summer entertainment catering to as broad a mainstream, worldwide audience as possible, which requires a different sort of performance. Put it this way: Garfield never had to dress up in a costume at Comic-Con when he was promoting "The Social Network," but he did just that for "The Amazing Spider-Man."
While it's unfair to put all the weight of a franchise's success (or failure) on its star, it's hard to forget that when an event movie doesn't pan out commercially, its lead often takes the blame. Consider 2006's "Superman Returns," which was supposed to be up-and-coming actor Brandon Routh's big breakthrough. Instead, when the movie "only" made $391 million worldwide, his career stalled badly, unfairly saddled with the baggage of somehow "ruining" Superman. Likewise, George Clooney may be much older than the other actors we've mentioned, but he had to rebound from the debacle of "Batman & Robin," which threatened to derail his post-"ER" film career.
If Garfield has to contend with oversize commercial expectations, things are a little easier on Benjamin Walker. He'll play the hero in "Abraham Lincoln: Vampire Hunter," one of the summer's possible sleeper hits. Based on the novel by Seth Grahame-Smith, who also wrote "Pride and Prejudice and Zombies," "Abraham Lincoln: Vampire Hunter" is an action-horror movie that re-imagines our 16th president as a shadowy vampire-slaying machine. Though not as popular as the "Harry Potter" or "Hunger Games" books, "Vampire Hunter" has its passionate cult fans, which makes Walker's acting job somewhat unique. Playing one of America's most famous figures, Walker (who previously appeared in "Flags of Our Fathers" and the Broadway musical "Bloody Bloody Andrew Jackson") has to seem both presidential and an ass-kicker. The entire movie looks like a kooky roll of the dice, and so Walker's performance could be instrumental in holding the whole thing together — or, if it goes poorly, he could be the face of a badly misguided project.
For all these emerging talents, it's surely a dream come true to become a superstar in a potential franchise. But there's a lot of uncertainty attached. Ryan Reynolds had probably hoped that "Green Lantern" would catapult him to the upper echelon of action stars — that didn't quite happen. So it's not just enough to play the lead in a big studio film; it has to deliver, too. And when your career has just begun — like in the case of Lawrence or Garfield or Walker — there's no guarantee there will be a safety net if your big movie tanks. It must be an exciting time for them, knowing that their acting future could be hanging in the balance, but it must also be incredibly stressful as well. By comparison, fighting to the death in the Hunger Games — or web-slinging through New York, or killing vampires — must seem like a breeze.