"The Host" teaser trailer offers first look at Stephenie Meyer's adult sci-fi flick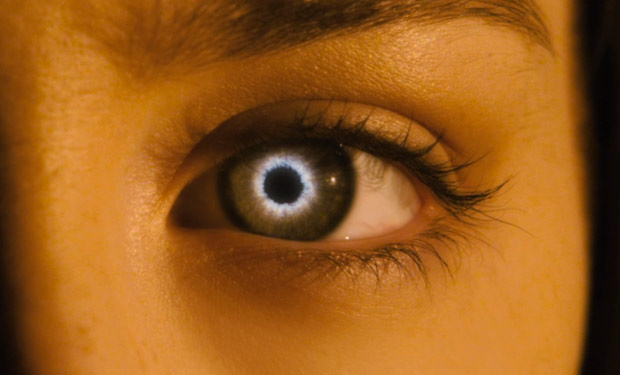 Posted by Terri Schwartz on
Forget "Twilight" and your notions of Stephenie Meyer, because "The Host" might change some of those when it comes out March 29, 2013. The first teaser for the film — which stars Saoirse Ronan, Diane Kruger and Max Irons — has hit the web and, though it seems a little corny at first glance, does a good job of setting up the story.
"The Host" takes place in the future when an alien race called Souls has taken over Earth. Melanie Stryder (Ronan) is one of the last remaining humans who hasn't been possessed by these beings, but ends up being taken over by a Soul known as Wanderer. Wanderer — or Wanda — and Melanie battle for possession over Melanie's body, and Wanda ends up becoming convinced to help Melanie find her uncle and boyfriend, who have started a rebel resistance group in the desert. Wanda slowly starts to empathize with the humans that her kind have invaded, and decides to help the humans end the Soul takeover.
Sure, the story is just a riff off a familiar genre. It's "Invaders of the Body Snatchers," but with a twist. The aliens invade Earth and take over humanity, but in doing so (as Ronan explains in this voice over) the planet is at peace. The invaders don't fight, or feel hatred, or have wars. The irony of "The Host" is in this fact, as the Earth is finally at peace without human kind.
And, as is the case with Meyer's stories, there is a romance at the center of the film. Melanie has her boyfriend Jared (Irons) while Wanda starts to fall for another rebel named Ian (Jake Abel). It certainly adds a different dynamic to the whole love triangle spiel when both Melanie and Wanda inhabit the same body.
Ronan, who has repeatedly proved herself as an actress, seems more than capable to handle this role that could be both tricky and corny. And director Andrew Niccol has done a great job with the sci-fi genre in the past (hello, "Gattaca") even though he struck out with the recent "in Time." "The Host" was a far better novel than any of the "Twilight" books (though it has a similarly terrible ending that was hopefully rectified in the film), so there's a chance that this could actually be a pretty great film.
Also, if you want a better look at the actual film (as the teaser doesn't have any real footage), People has some great new photos of some scenes between Irons and Ronan.
What are your first thoughts of "The Host's" teaser trailer? Tell us in the comments section below or on Facebook and Twitter.