"The Avengers" IMAX 3D spot teases unity instead of division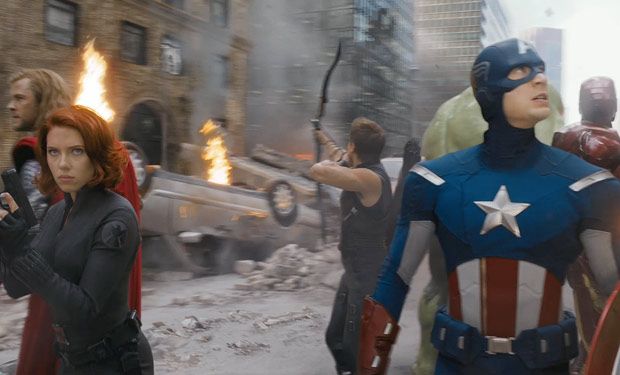 Posted by Terri Schwartz on
Marvel has released a new IMAX 3D spot for "The Avengers," thoroughly convincing us that we should see the movie in IMAX and 3D. The 30-second teaser doesn't feature any new footage, but it is cut together to show us a side of the movie that we don't typically see.
In recent trailers for "The Avengers," the focus has seemed to be on the way that the crime-fighting superhero group is divided instead of united. We often see Iron Man and Captain America bickering, or Bruce Banner claiming that their division is worse than the terror that Loki is inflicting on Earth. It seems to imply that "The Avengers" is going to be as much about uniting the titular group as it is about fighting off the evil threatening our planet.
The new spot also seems to show that the movie is going to largely deal with the Avengers learning to work together, but in this video we see that the focus is more on how they can play nice with one another. Stark and Captain America address each other politely, while Nick Fury claims, "I still believe in heroes," against the circular group shot we have come to know and love. Honestly, we're hoping that this new trailer gives us a better sense of what "The Avengers" will look like, because there's only so much bickering we can take during one two-hour movie.
Directed by Joss Whedon, "The Avengers" stars Robert Downey Jr., Chris Evans, Mark Ruffalo, Chris Hemsworth, Scarlett Johansson, Jeremy Renner, Tom Hiddleston, Stellan Skarsgård and Samuel L. Jackson. It is due in theaters on May 4.
What did you think of the tone of this new teaser? Tell us in the comments section below or on Facebook and Twitter.