In honor of "John Carter," ten awesome dude movies with dude's names for titles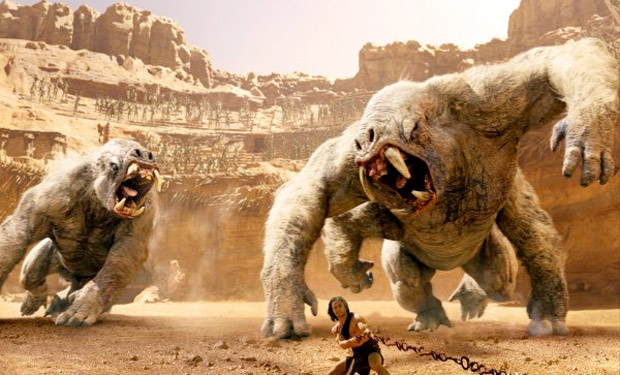 Posted by Scott Neumyer on
"Ed Wood" (1994)
I know what the ladies really love: black and white dramedy biopics about one of the worst (if not the worst) movie directors of all time! Oh, and he's also a transvestite. They love these kinds of stories! They don't? Oh, right. They don't. Thus, us guys are left alone to adore the genius of Tim Burton's 1994 biopic "Ed Wood" and wonder why the King of Goth Cinema hasn't made a really good movie in his last few tries. The critically acclaimed film is both funny and touching at just the right times and does its best to document the life of oddball director, actor, screenwriter, and all around filmmaker Edward D. Wood, Jr. The man created some of worst films of all time including "Glen or Glenda," "Bride of the Monster," and "Plan 9 from Outer Space." He worked with one of the biggest names in film (past his prime), Bela Lugosi, but the scripts were a mess, the effects laughable, and the films nearly unwatchable. Fans looking for a good laugh or a touch of nostalgia mostly watch them now. That said, Ed Wood was an interesting guy whose life made for some really fun movie fodder. If you want to have a fun guy's night gather up some friends, throw on "Plan 9 from Outer Space" and follow it up with a showing of one of Tim Burton's greatest films.
---
"Barry Lyndon" (1975)
Unless she's a real cinephile, you're going to find it pretty tough to find a lady in your life willing to watch Stanley Kubrick's 1975 British-American period war flick "Barry Lyndon" all the way through with you. It might not be your typical Dude Movie in that there's a heavy romantic element to it (that's your major selling point to rope her in), but it's still a war film through and through. And did we mention that it's long? Like, really long. And this isn't your fast-paced three-hour action film. It's a methodically paced, heady film that's narrative is split into two acts and an epilogue. That said, "Barry Lyndon" is beautifully shot, well told, and more exciting than you might expect from the description. Ryan O'Neal's performance as the titular character is fantastic and Kubrick's direction is stellar. It's a Dude Movie for your more forgiving and patient friends who like a great story more than a barrage of blood and guts.
http://www.youtube.com/watch?v=hHCKrusk5SQ
---
"Dick Tracy" (1990)
Based on the classic 1930's comic strip character of the same name, the 1990 film "Dick Tracy" tends to get lost in the shuffle when people talk about Warren Beatty's career. Everyone mentions how great he is in "Bonnie and Clyde" (which he totally is) or how many notches he carved into his bedpost before settling down with Annette Bening, but no one really gives him the credit he deserves for producing, directing, and starring in what should be considered one of the great early comic book movies. "Dick Tracy" used fantastic makeup effects (which went onto to win the Academy Award for Best Makeup), a limited but highly interesting color palette, and a whole lot of great supporting roles played by the likes of Al Pacino, Charles Durning, Madonna, William Forsythe, Paul Sorvino, and Dick Van Dyke to bring life to the beloved comic strip. It's a film that makes its somewhat underwhelming script seem much more fun than it should and gave comic book films a good name when there weren't a lot of good examples out there. If you look close enough, you can even see its influence in the myriad of comic book films that open in theaters what seems like every weekend these days. It's a fine film that deserves a nice resurgence of interest and a little more critical acclaim.
---
"Shane" (1953)
The oldest film on our list, "Shane" is a 1953 Western classic that stars Alan Ladd (as the Shane of the title), Jean Arthur, and Van Heflin. We also get to see appearances by Jack Palance, Brandon DeWilde, and Ben Johnson. Based on the 1949 Jack Schaefer novel of the same name, the film is about a gunslinger named Shane who rides into an isolated valley in Wyoming and meets homesteader Joe Starrett (Van Heflin), stays the night with Joe, his wife Marian (Jean Arthur), and their son Joey (Brandon DeWilde), and tries to teach the family about the importance and place of guns before Marian tells him that they'll have none of it. There's a big conflict between the homesteaders and the ruthless cattle baron who wants to force them off the land with lots of fistfights and gunfights and dust kicking up everywhere. "Shane" is mostly your typical Western fare, but it's told in such perfectly calculated strokes that it stands out from the rest. Alan Ladd is terrific, the fight scenes are just the right amount of action, and the open-ended conclusion of the film has become iconic for its ability to start heated arguments among film fans. I don't know about you, but I have yet to get my wife to watch any Western with me, let alone one from the 1950's. "Shane" is the perfect Dude Movie to pop on the TV when you're entertaining your grandfather and father for the day. Enjoy the film and spend the rest of the night arguing about that legendary ending.
---
"Rambo" (2008)
No one believed that Stallone could make another great Rambo movie, especially when the actor was already over sixty years old. Well, he certainly proved everyone wrong. Not only does Stallone write and direct "Rambo" but he also reprises his role as the Vietnam veteran. John Rambo is hired to help rescue a group of missionaries who've been kidnapped by men from a Burmese military regime. But here's what makes "Rambo" arguably the most brutal and awesome of all the Rambo films: "Rambo" has more kills than any of the other films and the violence is all laid out right in front of the viewer. Stallone pulls no punches all the way up to, and including, the amazing .50-caliber machine gun finale. "Rambo" is easily one of the greatest Dude Movies of all time and is the perfect way to end this list.
http://www.youtube.com/watch?v=n3lFEVwLAxE